What makes eWebinar unique
eWebinar is the only webinar platform that allows you to fully automate your repetitive webinars without sacrificing the two-way chat, engagement, and interactivity that make live webinars so valuable.
Lightning-fast setup — no instructions needed
Chat live with attendees or reply later by email
Easy-to-add interactions keep attendees engaged
Interactive, pro-quality presentation room
High-converting registration page builder
Analytics you can understand and take action on
Registration widgets & pop-ups to drive sign-ups
Unlimited recurring sessions per webinar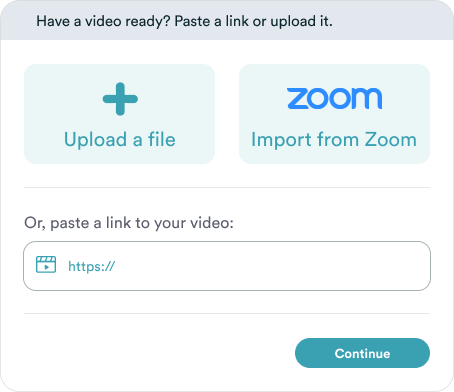 Automate your first webinar in 10 min
Setting up your first automated webinar takes 10 minutes. Just pick the video you want to use, title your webinar, set the schedule, and go live. No training required.
5-step 'no training needed' setup
Upload any video or paste a URL
Auto-populates your logo & info
Pre-designed templates
Simple scheduling options
Easy-to-add interactions
Intuitive registration page builder
Pre-written notification emails
Well-thought-out defaults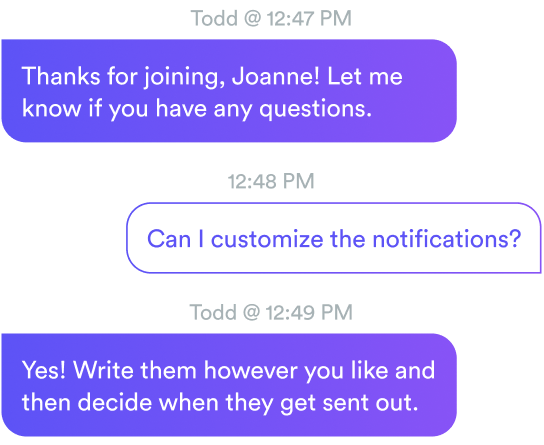 Deliver a personalized touch at scale
Welcome, interact, and follow up with attendees — all on autopilot. Answer every single question by chat or email. Add custom calls to action to nudge attendees to the next step in your funnel or their customer journey.
Turn any video into a webinar
Same great experience every time
Available when your customers are
Recurring, set-and-forget schedule
Preprogrammed interactions
Welcome message & autoresponder
Custom reminders & follow-ups
Questions answered by chat or email
Ongoing nurture via integrations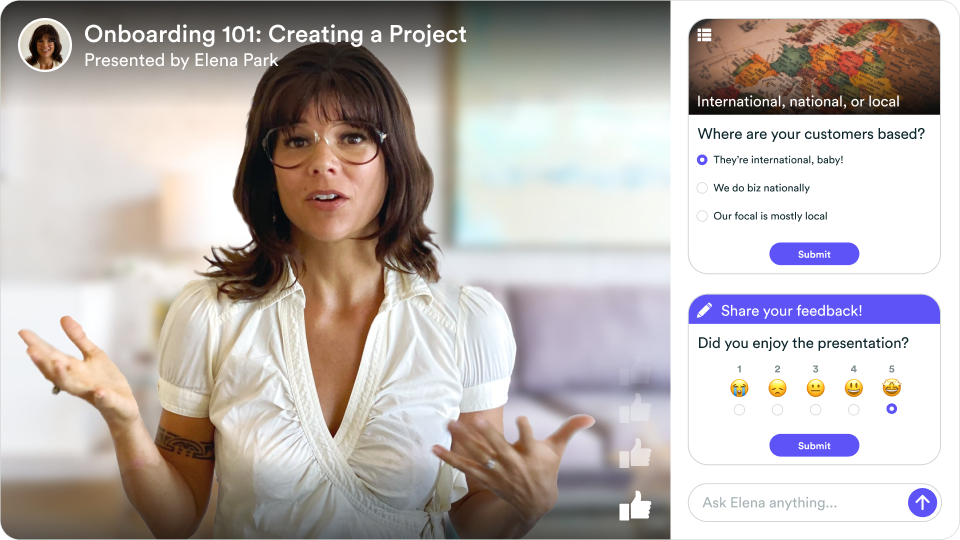 An unparalleled attendee experience
Attendees can register and watch your webinars when it's convenient for them. They can reach out with questions via live chat, answer polls, share feedback, and participate in an engaging, interactive experience that looks and feels world-class.
Fun, interactive experience
Beautiful & inviting design
Easy to use & no downloads
Convenient, recurring schedule
Sessions available 'on demand'
Mobile-optimized experience
Questions can be asked at any time
Personal messages & notifications
No live webinar 'tech issues'
All subscriptions include all standard features
Respond to every attendee via live chat or email
Chat with customers in real time or get back to them later at your convenience. Conversations move automatically to email when attendees go offline, so you can be sure every question gets answered.
Live chat for real-time convos
Designated chat moderators
Email & desktop notifications
Email for post-session replies
Auto-response if slow to reply
Easy inbox management
Automated welcome message
Support for multiple moderators
On-the-go mobile chat admin
Flexible scheduling for total convenience
Anyone, anywhere in the world, will be able to register for and join your webinar at their convenience. You won't spend hours preparing for a webinar no one attends, or lose attendees because your webinar didn't fit their schedule.
Regularly recurring schedule
Fixed or attendee's timezone
'Watch a replay' option
Blackout dates for holidays
Just-in-time & on-demand sessions
Set office hours
Interactions to keep people engaged till the end
Program interactions to appear at specific times throughout your webinar so you can share resources, gather feedback, engage with your customers, and keep them interested until the very end.
Take polls & ask questions
Make special offers
Post helpful tips
Ask for feedback
Solicit contact info
'Thumbs up' reactions
Private welcome messages
Conversion alerts
Logo overlay
Programmable chat messages
Thinkific special offers
'Featured on Product Hunt'
High-converting registration pages & widgets
Create simple, beautiful, and high-converting registration pages with pre-designed modules and no coding required. Add registration widgets and pop-ups to your website and landing pages to drive sign-ups everywhere.
Effective registration pages
Easy, templated page builder
Registration widgets
Registration thank you pages
Branded to your company
Registrant email verification
Customizable registration forms
No-registration ungated replays
Expiry for replay links
Support for tracking and scripts
Editable social card content
Fits your brand & into your workflow
eWebinar makes your brand shine and fits with whatever way you choose to run your business.
Fully branded experience
Lots of interactions and CTAs
Embeddable scripts and tags
Customizable registration pages
Widgets for any webpage
Integrates with other products
Email and SMS notifications
Supports 20+ languages
Custom domain
Actionable analytics & customer feedback
Leverage our comprehensive analytics to see what's working and what's not so you can make your presentation better. Collect direct customer feedback through chat and interactions to improve your product or service.
Registration & attendance rates
'Time saved' counter
Shareable dashboard
Direct feedback through chat
Engagement rate & heatmap
Sales funnel conversion tracking
Copy & paste text summary
Responses to interactions
Average time watched
Attendee activity summary
Downloadable registrant data
Cumulative poll results & ratings
Key integrations & tracking
Make the most out of your webinars by integrating eWebinar with the products you already use and the day-to-day processes you follow, whatever those might be. See all integrations →
CRMs & marketing tools
Slack integration with chat
Scripts and tags manager
Zapier to connect to 3K+ apps
Twilio for SMS reminders
Custom fields & mapping
Import recordings from Zoom
Flexible integration mgmt
UTM parameters & hidden fields
Role-based access for teams of any size
Invite team members to help you manage your account, create and edit your eWebinars, and moderate chat with attendees by assigning those best suited to the task.
Unlimited team members
Admins for account mgmt
Role-based access
Creators & editors
Simple team management
Chat moderators
Attentive customer support
We pride ourselves on our customer support and work hard to ensure our customers get the help they need in the shortest amount of time possible. We think you'll agree!
Responsive chat support
Comprehensive help center
'Quick start' video tutorials
eWebinar
connects with
your favorite
products