An up-to-date list of the different languages eWebinar supports, including those with standard templates.
As of April 2, 2023, eWebinar support the 29 languages listed below, which means you can create an eWebinar in any of these languages by starting with any one of our existing standard templates and customizing it accordingly.
Arabic
Bengali
Chinese (Simplified)
Chinese (Traditional)
Czech
Dutch
English
Finnish
French
Georgian
German
Hebrew
Hindi
Hungarian
Italian
Japanese
Korean
Marathi
Norwegian
Polish
Portuguese
Romanian
Russian
Spanish
Swedish
Thai
Turkish
Uzbek
Vietnamese
You may change the Language of your eWebinar under Settings in edit mode. When you do, uneditable elements of your eWebinar (i.e. certain buttons, dates/times, etc.) will be translated for you automatically.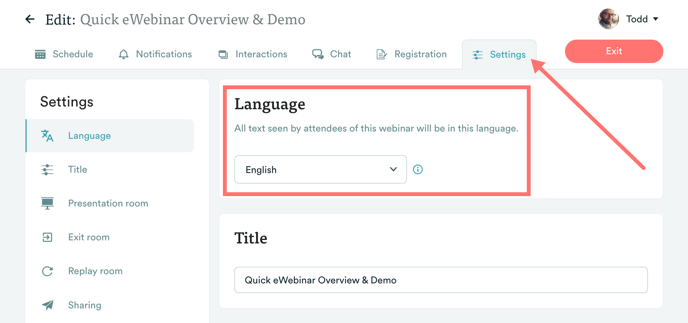 All of the other text in your eWebinar, which is editable, will need to be written from scratch in your language of choice unless we support a standard template in that language. In those cases, much of the content for things like your notification emails (reminders, follow-ups, etc.), welcome messages in chat, and registration page copy will have been pre-written for you to customize and make your own.
Here are the standard templates we currently support:
We are open to adding new languages to the ones we already support and/or publishing new standard templates in more languages. If you are interested in having either of these things done, contact us at support@ewebinar.com. If we are able to do it, what we may ask in return is that you help proof the translation of everything to make sure it is correct.