The widgets you can use to promote your eWebinars
eWebinar offers 3 kinds of widgets. They are add-ons designed to help you promote your webinars in an effective, attention-grabbing manner — without having to write your own code.
You can install them on your website or landing pages.
Button: The button widget allows attendees to register for your eWebinar without navigating away from your site.



Card:The card widget allows you to promote your webinar as part of an existing piece of content, like a blog post or event page.



Pop-Up: The pop-up widget ensures that info on your upcoming webinar is the first thing visitors to your website see.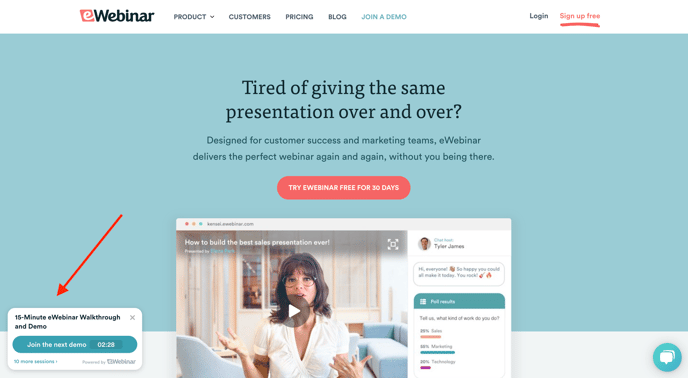 How do I generate a code for my widget?
The code for a widget is only generated after the widget has been published.
Once this is done, the code can be accessed via the Registration tab (pictured below), or the More menu on the homepage.

If your webinar is set to occur within the hour, a countdown timer will appear to create a sense of urgency.
How do I install widgets?
In widget code page, select the type of widget you want to install (button, card, or ›pop-up). The color of the widget button will be the same as the color selected on your registration page.
Copy the code and paste it into the body of the HTML for your website. You may need help from your IT administrator for this step.
For both the card and pop-up widget, you can choose whether you want the button to open the eWebinar registration page in a new tab, or open a pop-up registration form so visitors can register without leaving your site.
For the pop-up widget, you can also choose whether you want it to appear on the bottom left, center, or right side of the screen. Be sure to choose your configurations before copying the code into your website HTML, as these settings are included in the code.