How to Build a Course Presentation that Sells Your Course For You
by Todd Parmley
COO, eWebinar
Last updated July 16, 2021
So you've created an online course that can deliver lots of value to those who enroll. You're probably wondering what the best way to market your course to potential students is. Facebook ads can be costly, and social media posts only garner so much organic engagement. There's another method that can help you demonstrate your course's value to many more eyes: creating a presentation that sells at scale as an automated webinar.
Using live webinars to market courses has become a popular sales method, but creating a presentation that can be fully automated with opportunities for engagement will help you generate more sales of your course with less effort. This article will show you how to use an automated presentation to sell your course by covering the following:
Before we get into why you should use an automated webinar to sell your course, let's dive into creating a presentation that will help sell your course. If you'd like more information on how to create an engaging webinar, check out these webinar engagement strategies.
You can also register for a 30-minute webinar now on how to sell your course on auto-pilot!
8 steps to building the perfect presentation to sell your online course
Presentations are a great way to get potential customers excited about your course, but creating an engaging and motivational presentation can be intimidating. Follow these steps to create a great presentation that will help connect future students with your course.
If you use Thinkific to sell your course, you can also check out the best practices for selling your Thinkific course with eWebinar.
1. Choose a topic for your presentation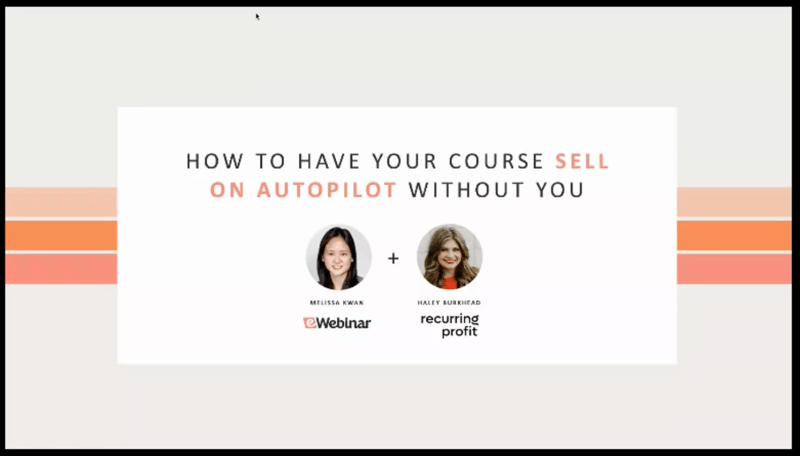 One of the best ways to give potential students a look at what your course has to offer is by providing a sample. Instead of presenting a broad overview of your course, give instruction on a particular topic, maybe something you cover in your course or that would make a good intro to your course. Choose a topic that will make a real impact in people's lives. This is a great way to give your audience value from the get-go. They're able to experience the benefits of learning about a topic that interests them, while you establish yourself as a credible and engaging host, which in turn will convince them of the benefits of taking your course once it's been introduced.
2. Address common pain points and your solution
As you're planning what to discuss, determine the pain points of your topic. Ask yourself what the problem is you've been able to solve with your experience. The main concern your presentation topic addresses and the solutions that work best should serve as the main talking points of your presentation.
3. Determine how you'll build trust with your audience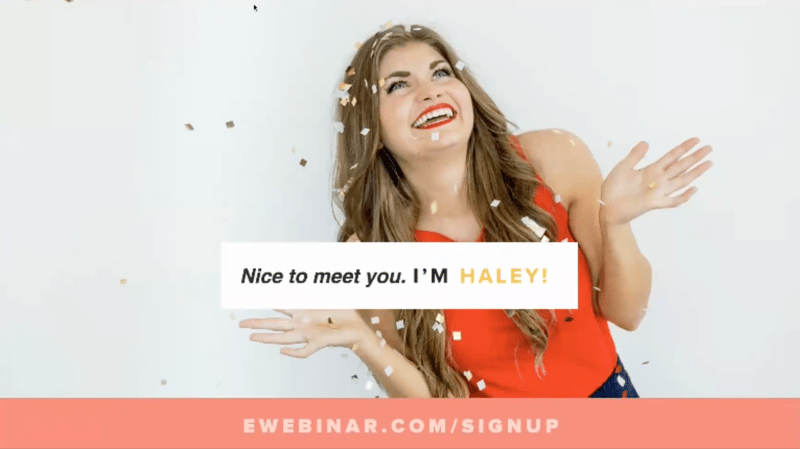 Next, you'll need to figure out the best way to sell your solution and establish your credibility with your audience. What past experience do you have that suggests you're knowledgeable in this topic? Do you have a really compelling story that explains how you discovered and utilized your solution? Making use of your background and personal experience, and showing off your passion and personality will help viewers see you as a trustworthy person.
Need some inspiration? Check out this webinar on how to promote and sell your course with organic content for tips on building credibility and authenticity with your content.
4. Identify opportunities for engagement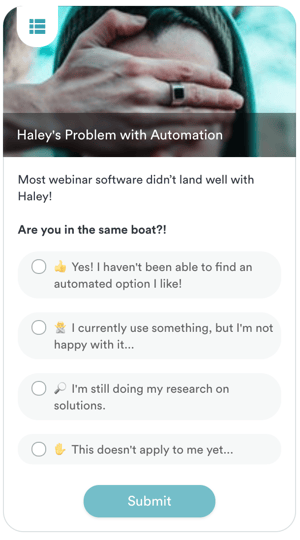 The best virtual presentations are the ones that make the audience feel like they're involved. When planning your presentation, look for ways to encourage engagement throughout. This could be as simple as asking your audience questions that they can respond to, or asking them to click the thumbs-up button if they like what they see. Many believe that live webinars are necessary to create opportunities for engagement, but using the right automated webinar platform, such as eWebinar, will let you plan for a variety of opportunities that allows your audience to interact with your presentation using chat boxes, polls, links, pop-ups and more.
5. Establish a clear call-to-action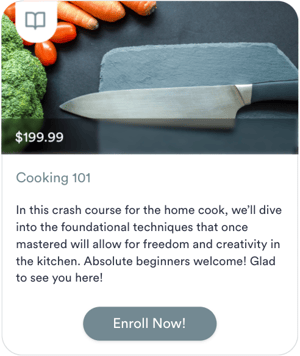 Remember: the reason why you're doing all of this is to sell your course to your audience. If they don't know how to sign-up, your conversion will be incredibly low. Not only do you want your presentation to flow flawlessly into an introduction to your course, you also want to make sure that introduction is clear.
Your audience should know what your course is about, what the price is, and what they need to do to sign-up. Not establishing clear next steps through a call-to-action will make it much more difficult for your viewers to register for your course when their intent is high. If you're using eWebinar to build your presentation, you can even program the sign-up link to appear during this point in the presentation!
Using Thinkific to sell your course? Learn how you can use eWebinar's Thinkific integrations during your presentation and how to set up a special offer call-to-action.
6. Finalize your script and slides
Once you've established everything you need to cover, prepare your script and slides for your presentation. When writing your script, you want to make sure you write enough so you can familiarize yourself with the points that need to be discussed, but don't write out the entire presentation word-for-word - and definitely don't put your entire script on your slides for you to read off of.
Your script should serve as a tool to keep you on track and help you ensure you've mentioned everything of importance, while your slides should be used to highlight and emphasize key information in a visually appealing way.
If you're not sure how to write your script, you can read through some of our examples of automated webinar scripts guaranteed to increase engagement.
7. Record your presentation
When you're ready, record your presentation. Make sure you've invested in quality software and hardware to help the recording look its best. Also, remember to relax and be yourself. No one is expecting perfection in a webinar, so it's perfectly fine to have the odd slip up during your presentation. If needed, you can edit your footage before publishing it.
8. Complete final edits and programming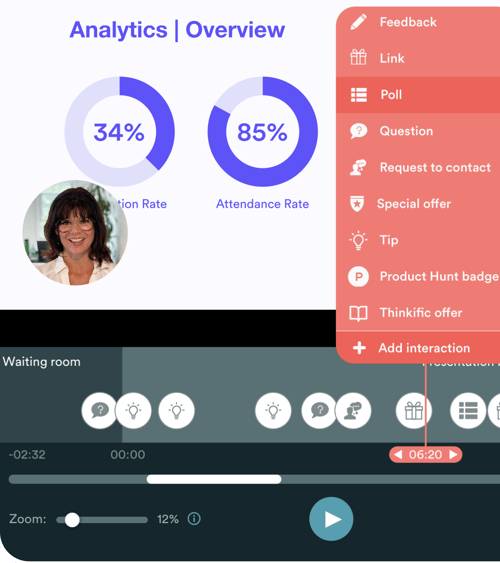 Now that you've recorded your presentation, you can make any final edits and changes before releasing it into the world. If you're planning to release your presentation as an automated webinar with eWebinar, you'll now be able to upload your final version of the video and customize your interactions before publishing.
6 key components every course sales presentation must have
When creating a presentation geared towards selling your course, there are several elements that can make a big difference in your ability to convert your audience to students. Here are some key components you need to work into your presentation:
Simple structure and design - Your script should have a clear flow, accompanied by slides with visuals that highlight key information.
Compelling value proposition - The benefits of attending your presentation should be clear and motivational.
Strong, relatable story - Tell a personal story relevant to your topic that will help your audience connect with you while seeing firsthand how your solution works.
Proven solutions - The pain points in your presentation should not only have solutions, but also be backed by evidence in the form of data and/or testimonials.
Clear call-to-action - The presentation should end with an introduction to your course and provide clear next steps for enrollment, including the price.
Opportunities for engagement - Creating ways for your audience to interact during the presentation, such as using the features found on eWebinar, will

help keep them interested throughout

.
10 mistakes to avoid when selling your course
If you want to successfully sell your course using a webinar, it's also important to know the common mistakes presenters tend to make. These are the mistakes you need to avoid when trying to sell your course.
1. Making your presentation too generic
When choosing your presentation topic, you need to be clear on who your target audience is. Presenting a broad topic that can apply to anyone is a sure way to lose interest. Being sure to cover the pain points and solutions in a way that helps your audience personally connect with the topic will help them see the value in your story and what you offer.
2. Cramming too much information on your slides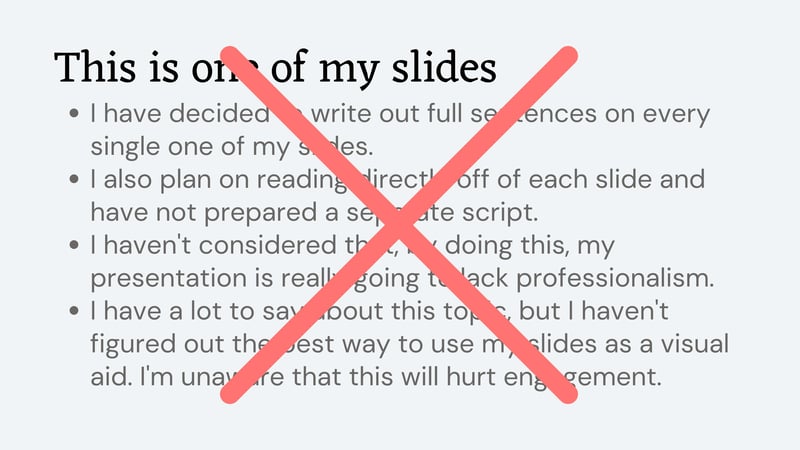 One of the biggest presentation faux pas is throwing the entire script onto the slides. Even worse is when the presenter reads directly off each slide. Not only is this unprofessional, but it's also really unappealing to look at and makes it extremely difficult for attendees to absorb information. Be sure to use your slides to highlight the key information and provide your audience with visuals that add to your presentation.
3. Lacking presentation skills
If you plan to give a presentation on your course, it's worthwhile to freshen up on some key presentation skills. Common mistakes made include speaking too fast, using lots of filler words, using technical jargon, using cliches, and speaking with little to no enthusiasm. Struggling to effectively present your information can hurt your credibility and the level of engagement your presentation receives.
4. Not using visuals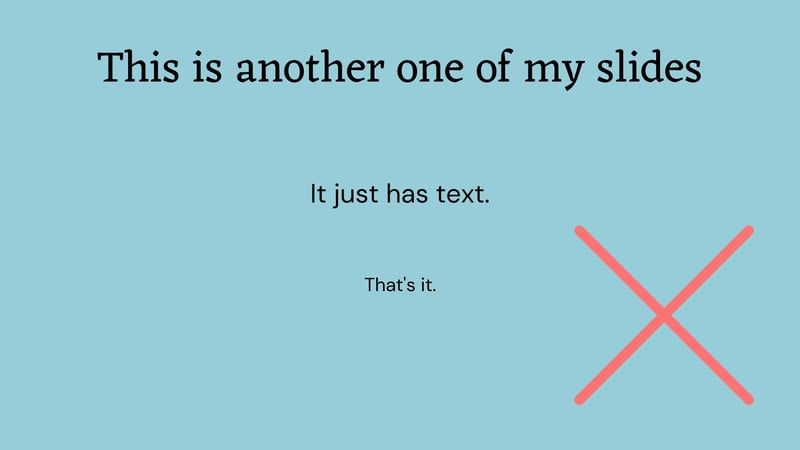 Some people opt to give presentations without any visual aids. For the sake of selling your course, this isn't encouraged. Using slides that emphasize your key information and offer a look into your course will help hold your audience's attention and demonstrate the benefits of your solutions. Data, testimonials, diagrams, and photos are all examples of ways you can use visuals to make the information within your presentation stand out.
5. Not focusing on the benefits
When talking about your course and the solutions to your topic's paint points, it can be easy to want to spend your time discussing the features, but not the benefits. Your audience needs to understand why there's values in your solutions and what advantages they'll gain by signing up for your course. Be sure that every great feature found in your presentation serves a purpose.
6. Being untruthful or jumping to conclusions
Every claim you make during your presentation needs to have the proof to back it up. If your course has a key feature that's based on an assumption or you want to tell a white lie to help you sell to potential students, you need to reconsider. If you're proven to be wrong about your claims, you'll lose all credibility and will likely struggle to sell your course going forward. Data and testimonials can be easily incorporated into your presentation to back your claims.
7. Not preparing beforehand
A lot of people think they can wing their presentations, especially when they're familiar with the topic. This is another easy way to come off as unprofessional. Failing to prepare beforehand will show as you'll be more likely to ramble, stumble over your words, and fall off course. There's no set rule for how much preparation you need beforehand, but you should have a script with accompanying slides at the bare minimum.
8. Using scare tactics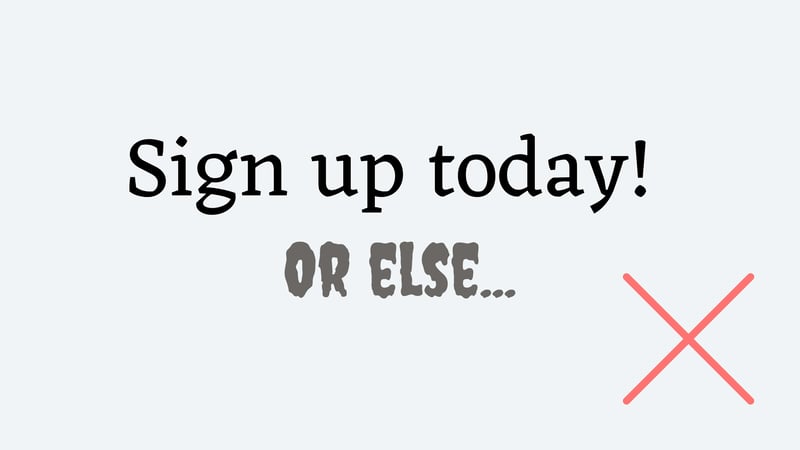 Scare tactics are a sales technique that you are highly encouraged to avoid. It's understandable that you might want to create some sense of urgency if your call-to-action includes a limited time offer with your course, but trying to increase your conversion rates by instilling fear in your audience can be seen as a dirty move. Using scare tactics can cause your viewers to see you as untrustworthy while making others question the value you bring.
9. Becoming defensive
One of the best features of using an automated webinar platform is the live chat feature, allowing potential students to easily ask questions or leave comments throughout the presentation. eWebinar even has an email feature that allows you to easily respond to comments via email after the session has ended.
However, all sales presentations will have their skeptics. If an attendee leaves a question or comment that is critical in tone, the worst thing you can do is get defensive. Responding poorly can reflect poorly on your course and your brand. Make sure to have responses prepared for whenever you're met with skepticism, and maintain a professional composure at all times.
10. Not having a clear closing and call-to-action
The biggest mistake you can make with your presentation is to end on a weak note without providing any next steps. The purpose of this presentation is to sell your course, so you need to motivate your viewers to take action and sign up. Be sure to structure your presentation in a way that makes it clear when you're coming to the end, and provide a clear call-to-action that tells those interested how to enroll and inspires them to do so.
Why using live webinars to sell your course is slowly killing your business
While live webinars have become a really popular way for creators to sell their courses, it has proven to be more work than it's worth. Continuously hosting live webinars again and again is incredibly time consuming, especially when compared to the amount of attendees who actually enrolled in your course. This amounts to a huge waste of resources, and many course creators often experience burnout as a result of this.
Using an automated webinar to sell your course is a guaranteed method of creating engaging presentations that will increase your conversion rates with less effort. Once you've created your webinar and customized it with a variety of interactions, you can schedule it to be available for anyone anywhere in the world at any time without you needing to be present.
This allows more people to watch your webinar at their own convenience, including those who wouldn't otherwise be able to attend your live events. The best part is you get back hours of time that can now be spent making an impact with your students or spending more time with your family and friends!
If you want to know how you can earn $1 million by automating your course sales presentation, register for this webinar now.
Now you know everything about creating a great presentation to sell your course, the key components your presentation should have, and the top mistakes you need to avoid. If you're ready to sell your course using an automated webinar, check out this profitable webinar template.
If you still haven't tried eWebinar, sign up and try it free.
How to Sell Online Courses on Autopilot
TABLE OF CONTENTS