26 Best Tools for Course Creators to Market & Sell Your Course Better
by Todd Parmley
COO, eWebinar
Last updated July 16, 2021
If you've been struggling to sell your online course to potential students or just want to increase your sales, it's time to explore the tools available to you. There's a wide range of sales and marketing platforms available, and not a lot of clarity on what works best for selling an online course. If this sounds like your current dilemma, this article will help you discover the best tools for course creators by covering the following:
Perhaps the best way to promote your course is by using a webinar automation tool, like eWebinar. Before we get into that, let's take a look at the other top tools that can help you sell your online course.
Video & webinar platforms to enhance course sales (3)
Video is a great way to present products and services to viewers, which is why you should be making use of webinars or static videos to promote your course. Here are the top video and webinar platforms for promoting your course.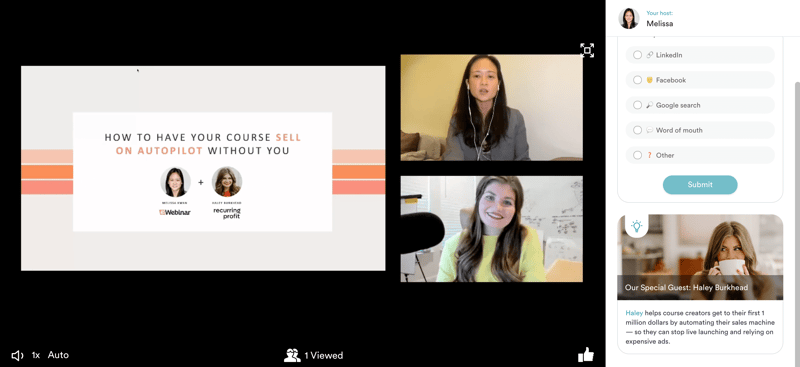 Cost: $99/month (Level 1) | $199/month (Level 2) | $299/month (Level 3)
eWebinar allows you to turn any video into an interactive, automated webinar that can help you automate your sales process. The easy-to-use features allow you to customize a personalized, engaging presentation that can be viewed by anyone at any time without you needing to be present, but without sacrificing the opportunities for interactions that makes live webinars so valuable.
Cost: $530/year/license (100 attendees) to $86,320/year/license (10,000 attendees) | Contact Sales (50,000 attendees)
If you already use Zoom for conferencing software, you can upgrade and start hosting live webinars to attract new students. Users can make live webinars their own by customizing registration forms and email reminders. You can also share your live webinars as pre-recorded webinars afterwards.
Want to convert your Zoom webinar into an automated webinar? Learn more here.
Cost: Free
As the top video sharing platform, YouTube is a great place to upload videos promoting your course. The customizable features allow you to increase your reach on the site and use your videos to direct viewers to your course. YouTube Live is also an option for hosting live events promoting your course.
If you want to use YouTube for video-sharing, be mindful of what types of videos work best on their platform, and what content should be converted into an automated webinar instead.
CRO & SEO tools for course creators (4)
Not only do you need potential students to discover your course, but you also want to encourage them to make a purchase once they do. Below are tools that will help you with conversion rate optimization (CRO) and search engine optimization (SEO).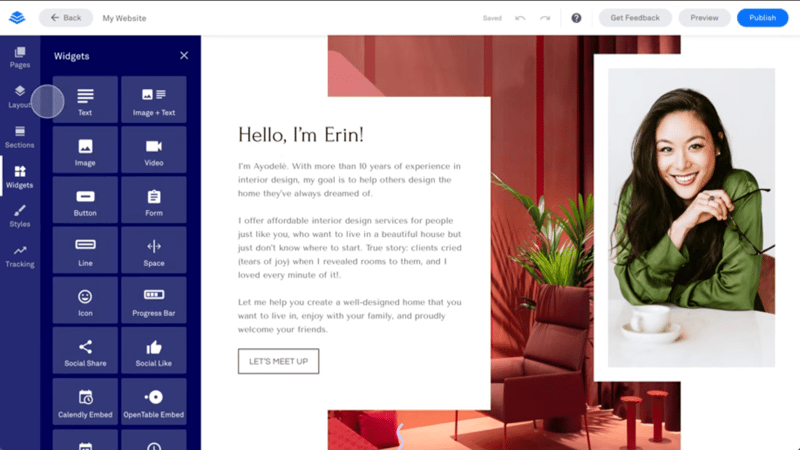 Cost: $27/month (Standard) | $59/month (Pro) | $239/month (Advanced)
For those looking to connect with potential students, Leadpages offers a variety of solutions. This platform allows you to easily customize websites, landing pages, pop-ups, alert bars, and more to garner more leads and make more sales. You can also track data to help you make informed decisions.
Cost: $97/month (ClickFunnels) | $297/month (ClickFunnels Platinum) | $2,497/month (TwoCommaClubX)
ClickFunnels is a sales platform that allows you to easily create a multi-page sales funnel to sell your course. Unlike traditional websites where users are given free range on what pages to navigate to, ClickFunnels helps you create a website that guides potential students through the sales process.
Cost: $17/month
For those with WordPress sites, OptimizePress lets you customize websites that will make more sales. The platform offers landing pages, sales pages, and marketing funnels to introduce new students to your course. It also allows for a wide variety of integrations, including Mailchimp and Keap.
---
PRO TIP: Integrate your landing pages with eWebinar. If you want to use any of the tools listed to promote a webinar with landing pages, websites, and registration pages, eWebinar allows you to embed your webinar's registration form and session links with them.
---
Cost: 1 credit/keyword | $10 for 100,000 credits | $50 for 500,000 credits | $100 for 1 million credits | $200 for 2 million credits | $500 for 5 million credits | $1000 for 10 million credits
Keywords Everywhere is helpful for those doing keyword research. This service can be downloaded for Chrome or Firefox to help you learn about specific keywords, including search volume, competition, and trend data. It also allows you to narrow the data to what users are searching for on specific websites, such as Google, YouTube, and Amazon.
Analytics tools for course creators (3)
Being able to analyze data is essential for course creators, since this will allow you to see how your course is performing and make smart business decisions. Here are a few of the best tools for working with analytics surrounding your course.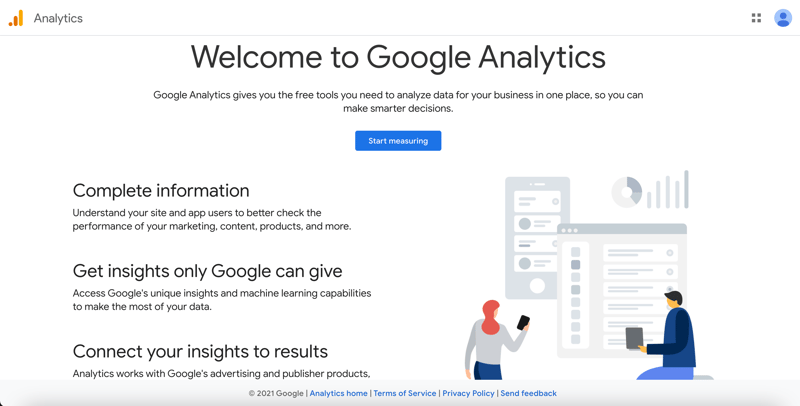 Cost: Free
Google Analytics is a great resource for tracking data on your course. It can be used to learn who is visiting your website/course and how people are interacting with it. All the data is in one place, so you'll be able to analyze everything you need in order to make better business decisions.
Cost: Free (Starter) | Contact Sales (Growth, Enterprise, Experiment, and Recommend)
Amplitude is another analytics app specifically designed to help you better understand your customers. The analytics features help you see how users are interacting with your course so you can work to convert, engage, and retain. Reports are super interactive and allow you to keep your data clean and usable.
Cost: $99/month (Level 1) | $199/month (Level 2) | $299/month (Level 3)
For analytics specific to your webinars, eWebinar offers a comprehensive analytics dashboard. This dashboard will allow you to see a wide range of data about your automated webinars to help you determine how you can improve your sales presentation. Available analytics include registration, attendance, and engagement rates, as well as the ability to see aggregated behaviors.
Course builder platforms for selling your online course (3)
You've probably already created your course and have been trying to sell it for some time. If you're using any of these online course platforms, it's good to be aware of the other features they offer.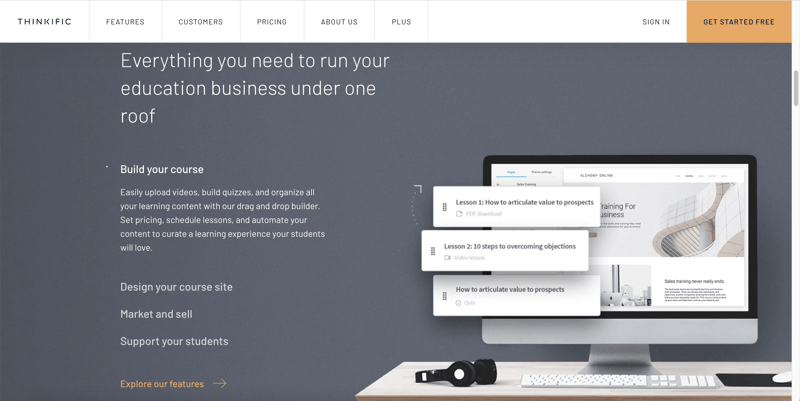 Cost: $0 (Free) | $69/month (Basic) | $119/month (Pro) | $319/month (Premier)
If you're using Thinkific for course creation, you should be familiar with the great features it has for selling your course. Thinkific offers various marketing features, including coupons and custom pricing, to attract new students. Marketing analytics are also available to learn how best to sell your course.
If you use Thinkific for course building, learn how you can use eWebinar to supercharge your course sales.
Cost: $29/month (Basic) | $99/month (Pro) | $249/month (Business)
Teachable is another great platform for selling your course once it's been created. If you use this course builder, you've probably seen their additional features from creating beautiful landing pages to their own affiliate marketing tools. It also allows you to connect your course to your existing website.
If you are interested, check out this comparison of two of our recommended online course creation platforms: Teachable vs Thinkific.
Cost: $119/month (Basic) | $159/month (Growth) | $319/month (Pro)
For those using Kajabi to create an online course, it has several additional features for selling your course. This includes marketing features, such as sales page creation and email lists for customer outreach. It also has powerful data and analytics features to help you make smart business decisions.
Cost: $39/month (Basic) | $99/month (Pro) | $249/month (Business)
Uteach is a simple yet powerful platform for online course creators, educators, and coaches. It is an independent platform that comes with features such as:
Visual Website Builder
Course Builder with SEO optimization fields
CRM & Lots of useful Integrations
Live lessons
This automation will save you time on routine tasks and help you to be more efficient and therefore get better results.
Uteach offers affordability and incredible quality, and will be perfect for those who want to start and expand their business searching for audiences worldwide.
WordPress plugins for optimizing course sites (3)
If your business lives on WordPress, there are various plugins available to help you get the most out of your course and even turn your WordPress site into a course builder platform. Here are a few great WordPress plugins for your course.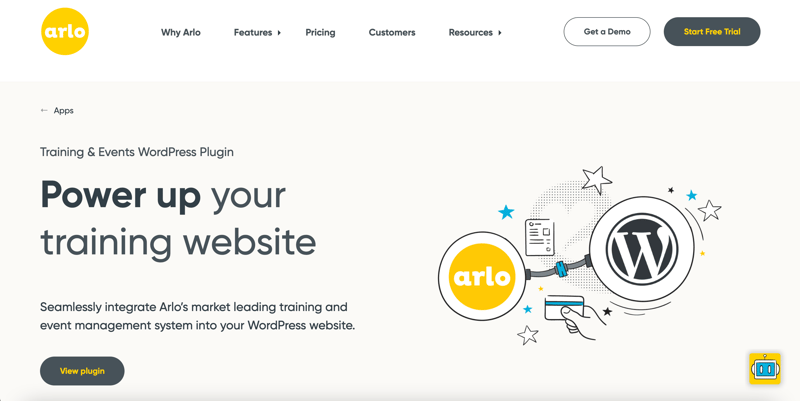 Cost: $29/month (Smart) | $89/license/month (Simple) | $159/license/month (Professional) | Contact (Enterprise)
Arlo is an incredible plugin that offers training management features for your course. It's features are designed to assist in automation, marketing, and business growth. It offers integrations with many other apps and offers strong security features to protect your course material and data. Those using Teachable to create your course can easily integrate it with Arlo.
Cost: $159/year (Basic) | $189/year (Plus) | $329/year (Pro)
LearnDash is a WordPress plugin that can help you make the most of your course. In addition to helping you create your course, it can also be used to customize your sales offerings and it allows for a wide variety of integrations. It also makes managing your courses and customers easy. Those using Kajabi and Teachable can integrate their courses with LearnDash.
Cost: $99/year (Standard) | $199/year (Pro) | $399/year (Agency)
Beaver Builder is a great solution for course creators who want to promote their course with their WordPress site. Their plugin feature allows users to integrate content on your website, which can then redirect to your course; however, it is unclear if it can be easily integrated with Thinkific, Kajabi, or Teachable courses. It also helps make beautiful page designs without needing a lot of coding.
Email campaign marketing software for course creators (3)
Email campaigns are one of the best marketing methods for connecting with potential and current students and enticing them to take advantage of your offerings. These are the top email marketing platforms for promoting your courses to past, present, and future students.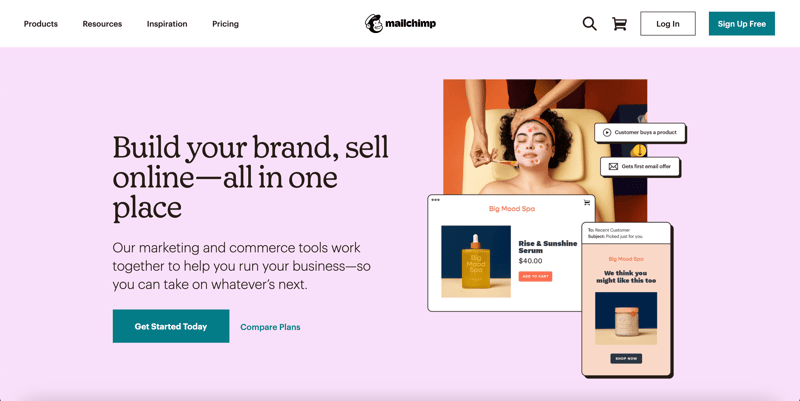 Cost: Starting at $0 (Free) | $9.99/month (Essentials) | $14.99/month (Standard) | $299/month (Premium)
Mailchimp is a marketing platform that can help course creators connect with students, both old and new. It's full of various features to help market your course, including email, landing pages, and ad creation. It lets you keep track of customers and view analytics to determine next steps.
Cost: Starting at $0 (Free) | $25/month (Creator) | $50/month (Creator Pro)
ConvertKit is another great option for email marketing software. It helps you create authentic email campaigns that will help maintain your relationship with your students. It also allows you to create custom landing pages and sign-up forms and even automate a schedule for sending out your emails.
Cost: Free | $39/month (Pro)
Sumo is another email marketing platform with the goal of helping you grow your email list. This service has tools to make collecting emails easier, categorized as List Builder pop-ups, Welcome Mats, Share Buttons, and Smart Bars. It can be integrated with WordPress, Shopify, and Google Tag Manager.
Affiliate marketing platforms for online courses (3)
Affiliate programs are a great way to promote your course through word-of-mouth by incentivizing your partners to promote your course. To connect with and manage your affiliates, here are some great affiliate marketing platforms.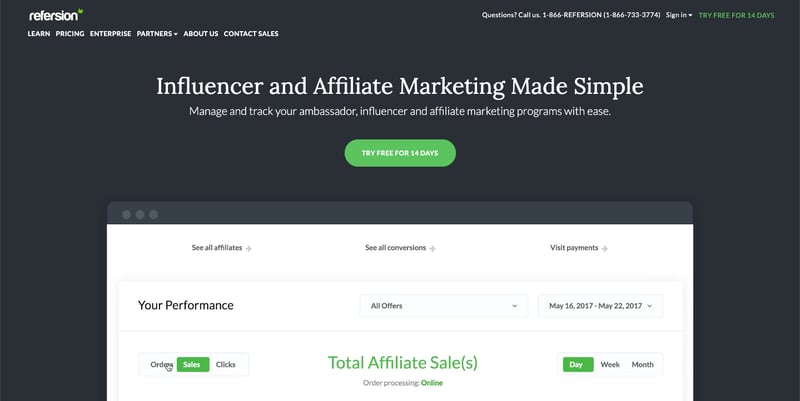 Cost: $89/month (Professional) | Contact Sales (Enterprise)
If you want your students to help get the word out about your course, Refersion allows you to track their activity. This software allows you to track all your affiliates and view data based on their activity. It can be integrated with your e-commerce platform and updates data in real-time.
Cost: $49/month + commission (Premium) | $3,999/month (Enterprise)
ReferralCandy is another affiliate marketing platform that makes rewarding affiliates easy. It includes detailed analytics to help you see the work of your affiliates. Best of all, it automatically pays out rewards based on their activity, so you don't have to worry about remembering to do so.
Cost: Free to sign up
PayDotCom is a great resource for connecting with affiliates and tracking data. The platform allows you to share your course for potential affiliates to discover and search for affiliates to work with. You can also access marketplace data, allowing you to see how your affiliates' promotions are performing.
Other useful campaign marketing services (4)
There are many different ways to market online courses, so it's good to have options for managing different types of campaigns. Here are some additional marketing tools you can use to promote your course.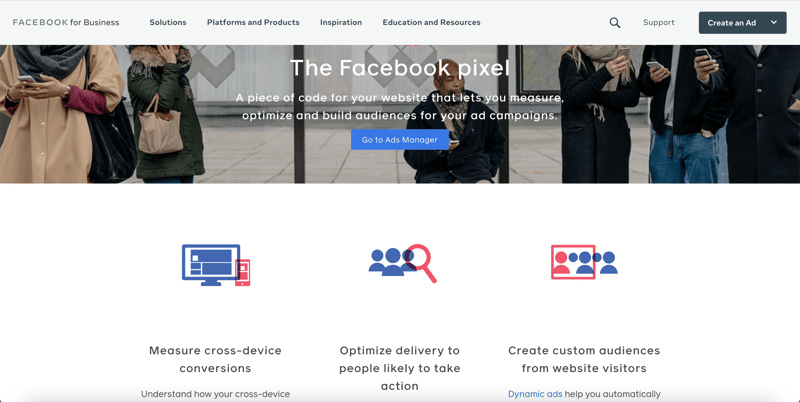 Cost: Free
If you want to run Facebook ads to attract new students, Facebook Pixel is a free tool that you should also be using. It's designed to show ads to Facebook users who are most likely to enroll in your course. This includes showing ads to those who have visited your site or interacted with previous ads.
Cost: $45/month (Starter) | $800/month (Professional) | $3,200/month (Enterprise)
For marketing and analytics, HubSpot is a reputable choice. Their software is designed to help you automate marketing campaigns of any size while helping you learn more about your audience. There's a wide variety of other features, including custom experiences, clean data, and customer service.
Cost: $15/month (Lite) | $75/month (Plus) | $175/month (Professional) | $309/month (Enterprise)
ActiveCampaign is a platform that can help you automate the customer experience. It has a variety of features for connecting with students, including email, chat, and social media marketing. It even lets you set goals to pull customers to different stages of your funnel based on their actions.
Cost: $39/month (Pro) | $79/month (Small) | $159/month (Medium) | $239/month (Large)
For promoting your course on social media, consider using ContentStudio. This platform allows you to create and plan for your posts to be released on a consistent, automated schedule. You can also gather analytics from your posts to determine how users are engaging with your content.
Featured tool: using an automated webinar to sell your course while you sleep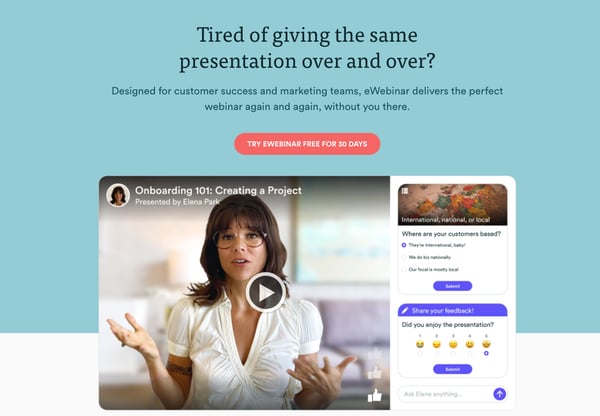 Live webinars have become a popular method of promoting online courses, but they require more work than they're worth. Scheduling and hosting them takes a lot of time and energy, and they're usually only met with smaller audiences and little conversion. If you're tired of doing live webinars to sell your course, there's a better way.
Automated webinars use pre-recorded video on a recurring schedule to allow your webinar to be viewed by anyone anywhere in the world at any time. Webinars are such effective sales tools because they allow course creators to interact with attendees, and using an automated webinar platform like eWebinar will allow you to achieve that same experience.
You can easily program a variety of customizable interactions to occur throughout your presentation, allowing you to engage with your audience and boost your sales without ever needing to be present.
Here are the benefits to using eWebinar to sell your course:
Schedule recurring sessions to make your webinar available to more people
Use the just-in-time feature to allow viewers to join for your webinar at their moment of highest intent
See higher attendance and conversion rates with wider availability
Customize interactions to create opportunities for engagement throughout your presentation
Includes a live chat feature that lets your attendees comment and ask questions
Respond to chat comments in real time or later by email
Gain back time that can now be spent growing your business or with family and friends.
To learn more, check out the great automated webinar features that eWebinar has to offer.
Now you know of a variety of tools for course creators that can help you sell your online course, from video and webinar platforms to affiliate marketing platforms and beyond. If you want to start selling your course on autopilot, you can use this profitable webinar template.
Ready to see what using automated webinars can do for your course? Sign up for a free trial today.
How to Sell Online Courses on Autopilot
TABLE OF CONTENTS