'eWebinar'


— an automated webinar platform that combines pre-recorded video with real-time interactions and live chat to deliver a delightfully engaging experience for attendees.

Synonyms: evergreen webinar, on-demand webinar, autowebinar, pre-recorded webinar, just-in-time webinar, asynchronous webinar, or interactive video
Unlock your time using automated webinars
Be in two places at once
Sell 24/7
Let leads qualify themselves with interactive self-service demos and connect when they're ready
Scale onboarding
Deliver personalized onboarding at scale and answer every question 1on1 through live chat
Automate training
Drive engagement and adoption with training that's available when your customers are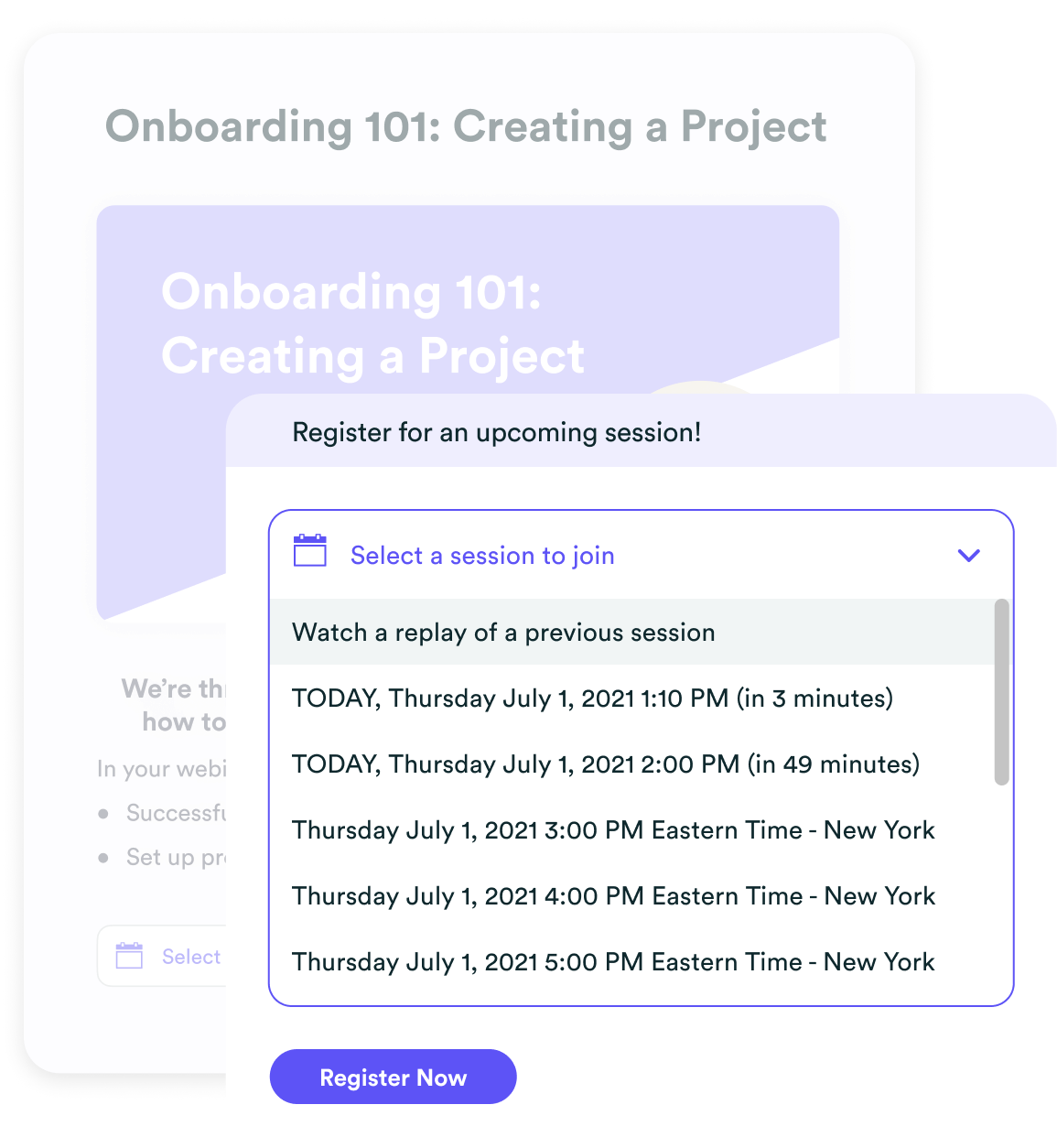 Take back your time & automate 100

s

of webinars every month
Upload any video, webinar, presentation or training into eWebinar, set a recurring schedule and go live. Attendees can register and watch your webinar instantly, without waiting days or weeks, and with built-in engagements and live chat, each attendee will get a personalized, engaging experience.
---
We used to do a live webinar every day at 10am. Now we do 70 hours of webinars per week, and that's not including replays and just in time sessions.

Greg Robertson
General Manager, Lone Wolf Technologies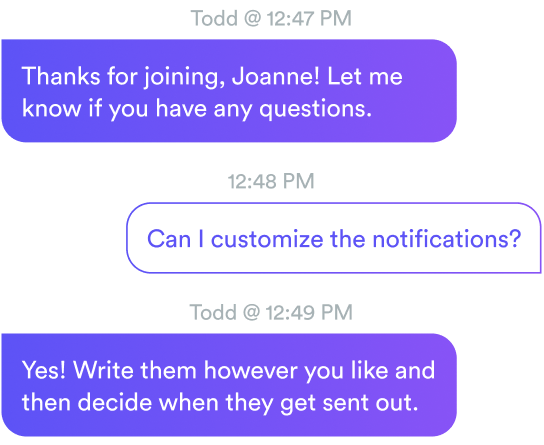 Chat with every attendee and answer every question
When attendees join your eWebinar, they'll be greeted with a custom welcome message. When they respond, you'll get a notification so you can chat with them live. If you're not around, they'll get a custom away message and you can respond via email later. Add team members to the notifications so they can respond for you.
---
On live webinars, it's hard to answer every question before the session ends. Now we run over 100 webinars a month and only spend an hour a day answering every message.

Anett Vándor
Customer Engagement Lead, Later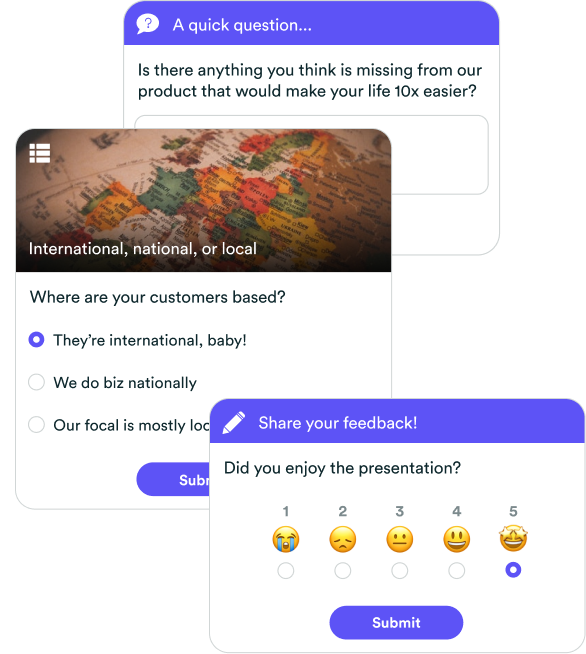 Interactions that keep attendees engaged till the end
Add pre-populated questions, polls, downloads, tips, offers, and more that show up at the perfect time during your eWebinar. Engage attendees, collect valuable feedback, and get attendees to stay for your entire presentation.
---
By using the same video in eWebinar that we've used on another platform and adding interactions, our watch time increased from 70-90% and more people are asking questions.

Kevin Andrews
Client Enablement Manager, BombBomb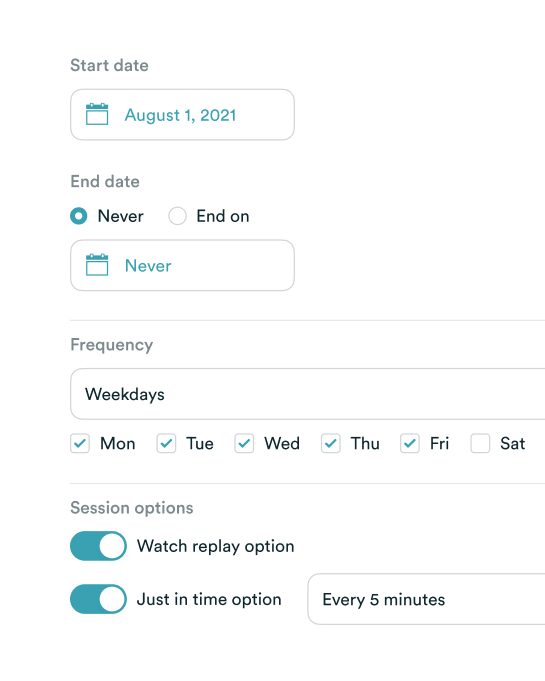 Webinars that are available when your customers are
Set up a recurring schedule at your attendee's own timezone so they can watch your webinar on their own schedule. Enable the on-demand or just-in-time option and let attendees register for a webinar starting right away. eWebinar's average attendance rate is 65%, which is 25% higher than industry average.
---
We have members in 6 timezones. 10am is great for me but I know it's not a great time for someone 3 hours ahead. With eWebinar's flexible schedule and replay option, our members no longer have to miss sessions and they love that!

Keith Robinson
Chief Strategy Officer, NextHome, Inc.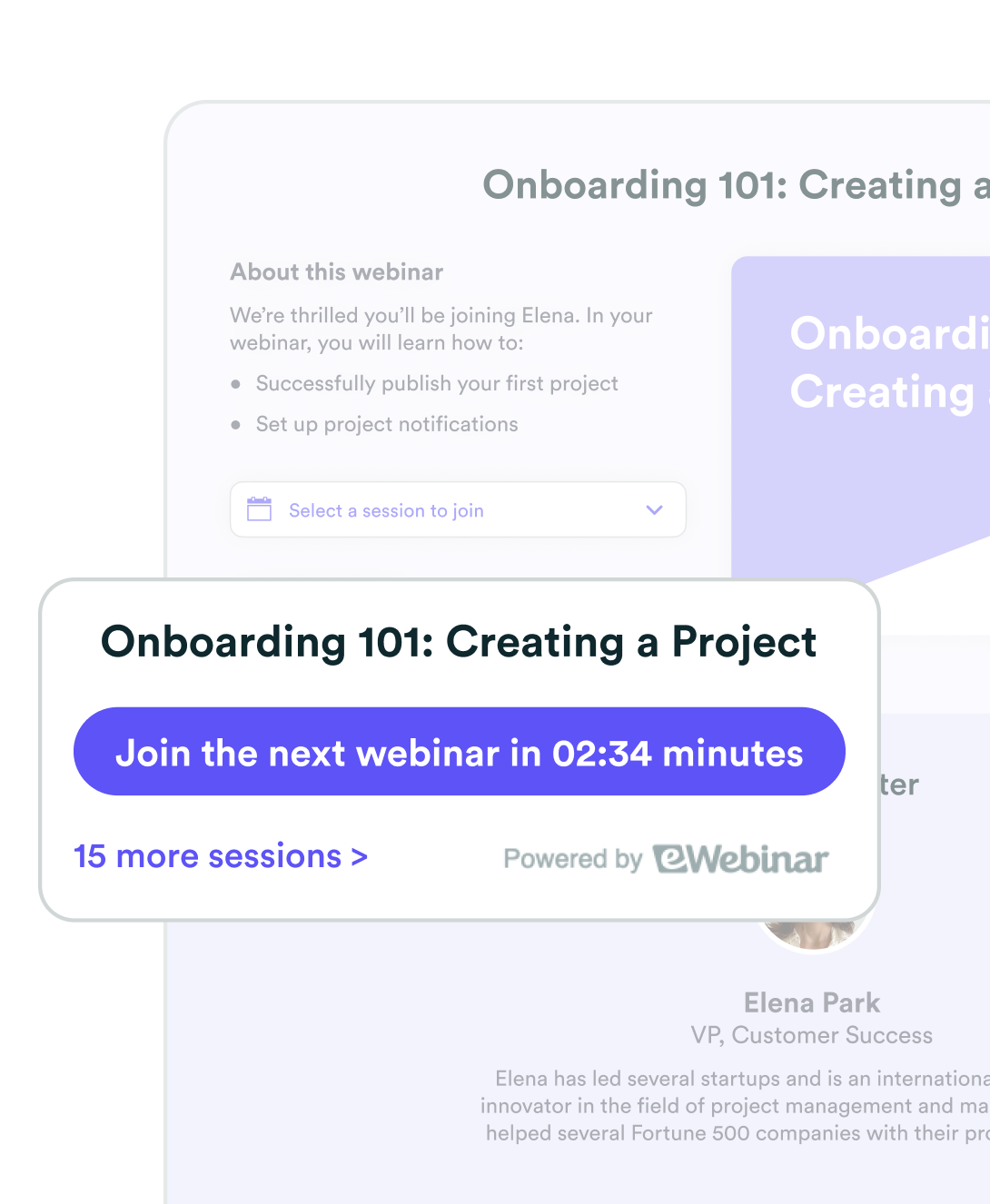 No-code registration pages and pop-up widget
Create beautiful, high-converting registration pages that get visitors to sign up. Add your content and images, and publish it without ever involving your dev team. Install the pop-up widget to any page on your site and increase sign-ups even more. It's like having a salesperson promoting your webinar 24/7.
---
By putting the pop-up widget on our homepage and doing nothing else, within 3 months, we did hundreds of hours of demos, got 400 leads, closed 7 deals without a rep, 10% booked a meeting. That's an 8000% ROI.

Trevor Larson
Cofounder and CEO, Nectar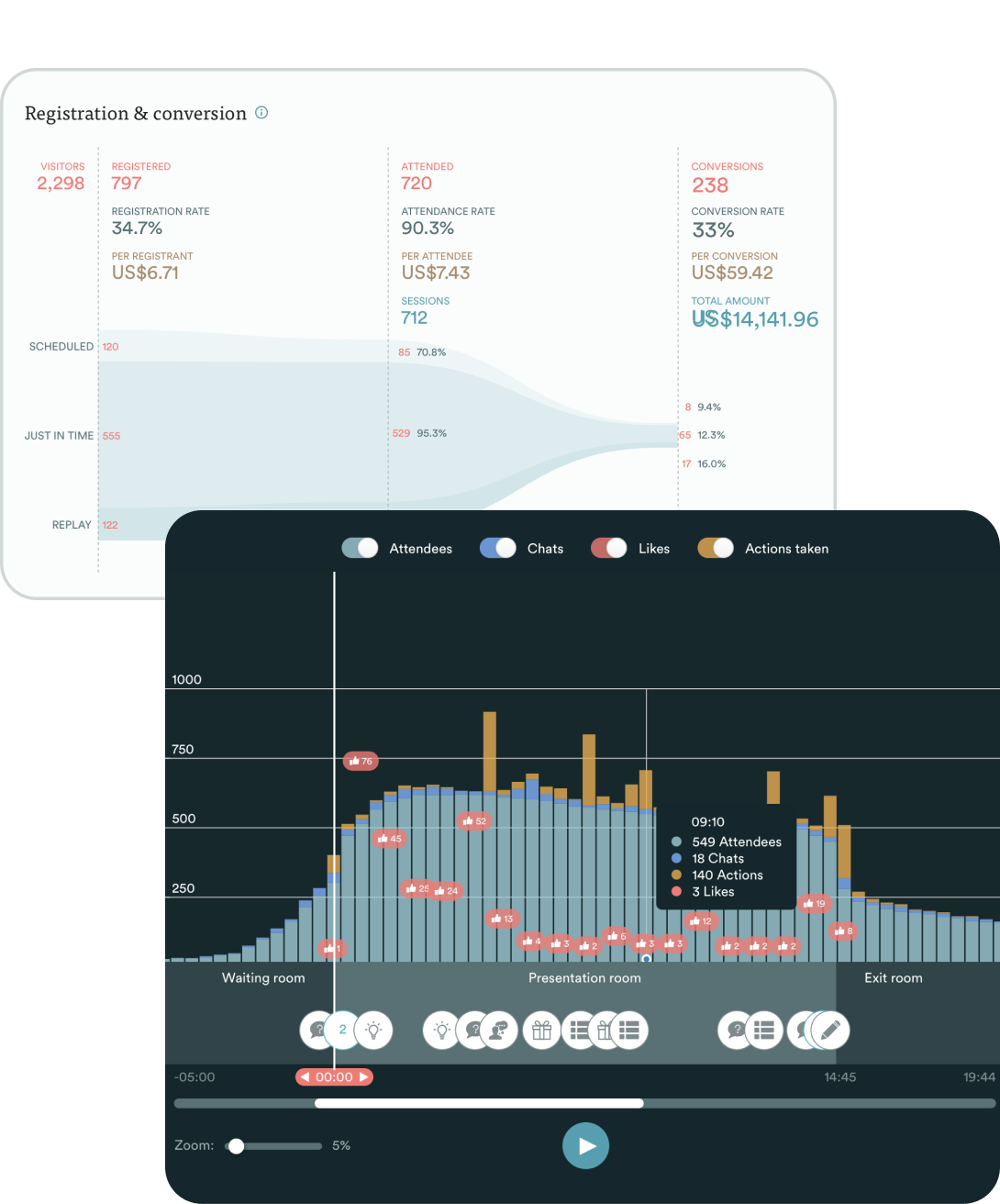 Actionable analytics that show you what's working and what's not
Login to your eWebinar dashboard and see how much time you've saved by not hosting your webinars live, registration rate, attendee activities and reactions during the webinar, where engagement drops off so you can fix it, average watch time, answers to polls and questions, and more.
---
I'm able to get a lot of data from my eWebinar attendees, such as finding out what people are most interested in learning about through the interactions. These are things I can implement in my course and use to make my presentation better later.

Carly Adams
Owner, Tidy Revival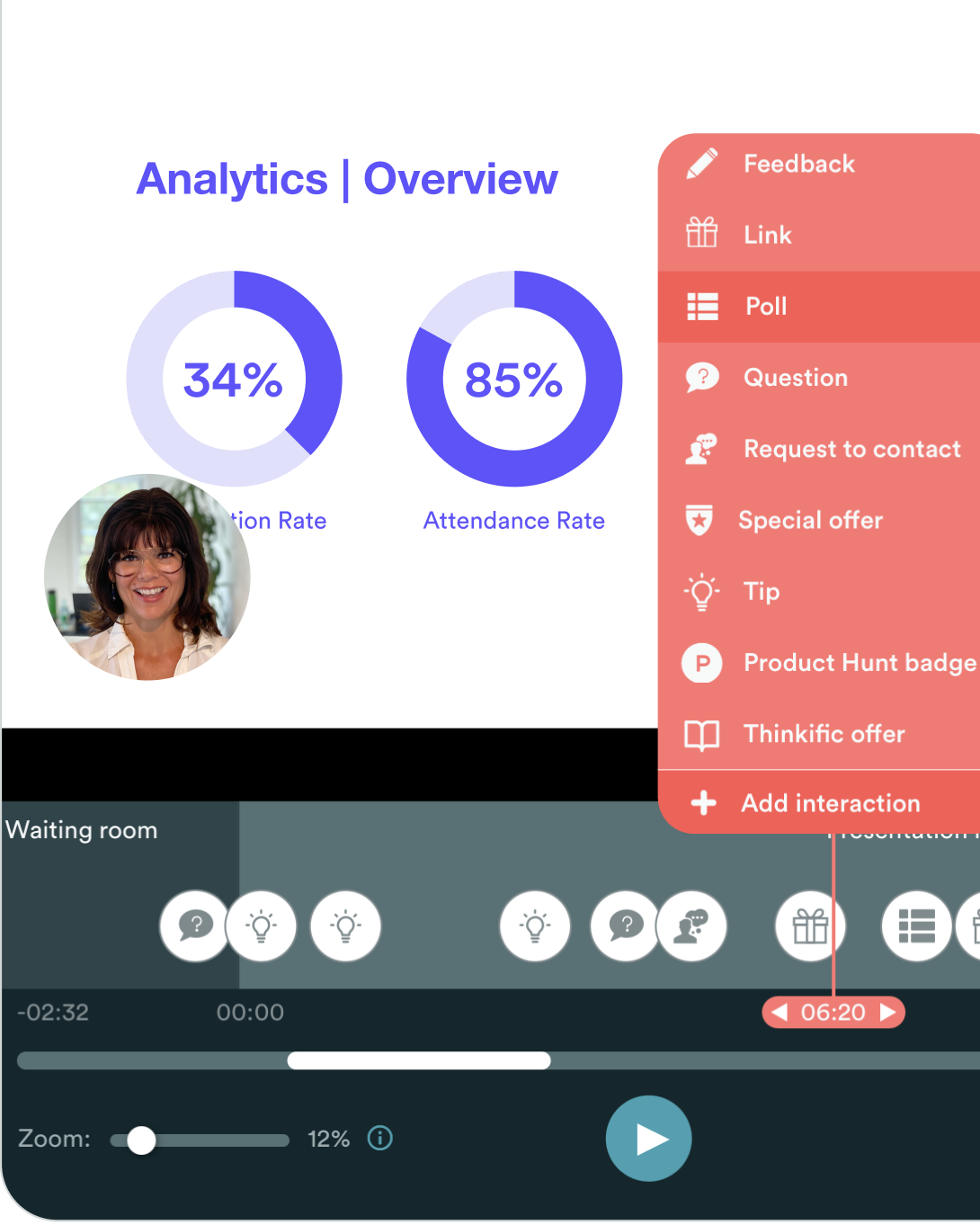 Automate your first webinar in 10 minutes
Set up your first eWebinar in 3 steps: 1. Upload your presentation (our Zoom integration lets you upload a recording right from Zoom Cloud). 2. Personalize the experience with polls, questions, tips, and call to action. 3. Set the schedule and launch!
---
Every other automated webinar solution I've tried was clunky and complicated. It took me 10 minutes to set up my first eWebinar and it was actually FUN to do.

Haley Burkhead
Founder, Recurring Profit
Join the companies that trust eWebinar