"eWebinar keeps my students engaged while giving me freedom and flexibility."
Shayna Oliveira, CEO of Espresso English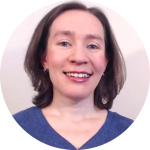 CUSTOMER
Shayna Oliveira , CEO
LOCATION
North Carolina, USA
About Espresso English
Espresso English provides self-study online courses and e-books teaching English as a second language.
How has eWebinar made your business better?
eWebinar has worked wonderfully both for me as creator, and for my students as viewers.
I am currently using eWebinar for education and sales - providing a free workshop teaching students strategies for reaching an advanced skill level, and encouraging them to join my program in order to get the education they need to reach their goals.
Because I teach thousands and thousands of students via video, it can be hard to create a more interactive experience at such a large scale. eWebinar now allows me to deliver interactive and engaging presentations which can still be attended at a time that is most convenient for the student, while preserving freedom and flexibility in my own schedule!
What's your favorite thing about eWebinar?
My favorite part is the Interactions which can be created to pop up alongside the presentation. My students love them. Not only does it provide a more interesting and active viewing experience, but also I was able to gather valuable data about my audience by asking specific questions to which viewers readily typed their responses.
How have your students responded to eWebinar?
Many, many of my students praised the eWebinar presentation and remarked on how much they enjoyed it. It's clear that an eWebinar feels like a "special event" which is an even better learning experience than my regular videos! Now in addition to pre-sales education, I'm planning to use eWebinar to deliver bonus workshops to existing customers. I'm positive they will be thrilled to participate.
What would say to someone who was thinking about signing up for eWebinar?
There are a ton of options in the world of automated webinar software, and the lists of details and features can be dizzying. What attracted me to eWebinar was its ease of use and strong focus on automation - and when I attended a demo eWebinar, I loved the experience as a viewer and knew my audience would as well. Because eWebinar is affordably priced and very user-friendly, I would encourage others to simply sign up and give it a try - you'll likely get hooked! 😀
Anything else you'd like to share that has impressed you about eWebinar?
I'm impressed by how smooth and simple it is to set up an eWebinar - it's incredibly easy and fun! Also, it's clear that the eWebinar team is actively working on the software and attentive to its users, as they have been extremely helpful and responsive.