Outlines the basics of what Moderators need to know about chat
When you are assigned to moderate chat for an eWebinar, you will start receiving three kinds of notifications, provided they have been enabled in an eWebinar's
Chat Settings
.
These three notifications will:
Remind you when a regularly scheduled session is going to begin in 15 minutes
Tell you when the first chat message from an attendee has arrived
Send you a summary of all of the messages from an attendee if you did not have a chance to respond to them during their session
To get to chat, click the link provided in any of the notifications you receive or login to eWebinar and click Chat on the eWebinar to which you have been assigned.


By default, you will see all unarchived chat messages for that eWebinar. New messages are bolded and indicated by a small badge. You can also see which attendees are currently in a live session.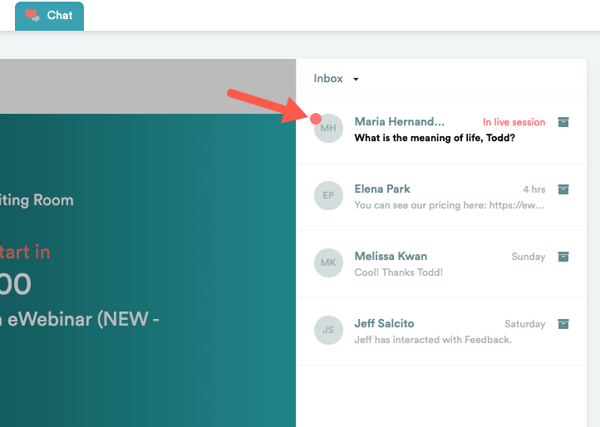 NOTE: If you respond to a message when an attendee is no longer in a live session, the attendee will receive your response via email. If the attendee then responds to that email, their response will go to you, unless a different reply-to email address has been specified in the eWebinar's Chat Settings.
Click a message to open the conversation. When you do, you'll jump to the moment in the video when the person sent their last message and be able to see all messages they've sent and any responses they might have had to interactions.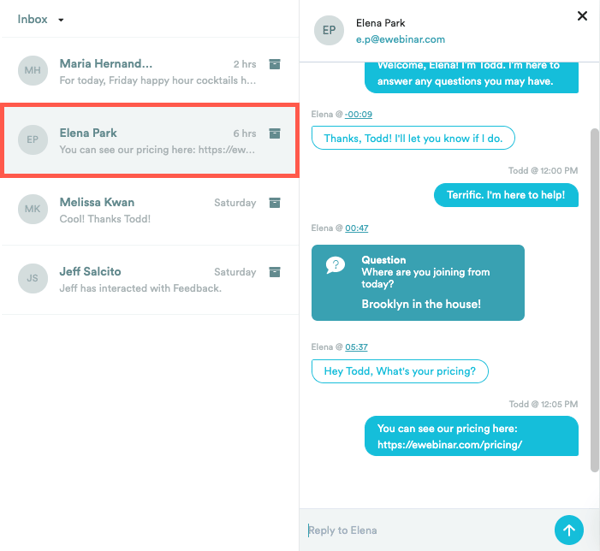 Click the timestamp next to any attendee message to jump to the moment in the video when they sent it, in case you need context for what they are talking about.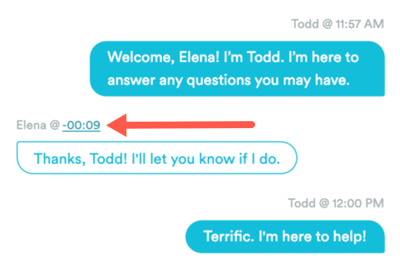 Type your message in the space provided and click the up arrow or press Enter on your keyboard to send it.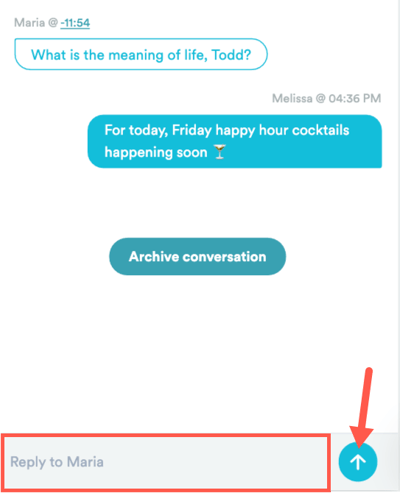 When you are finished, archive the conversation by clicking the icon or button indicated below. If the person messages you again, their conversation will reopen.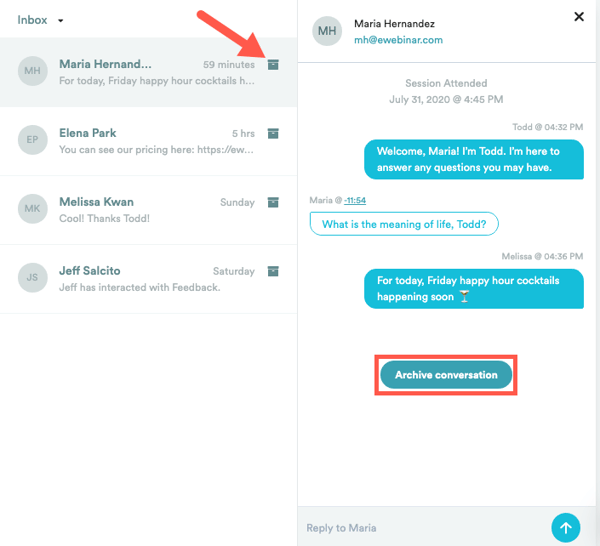 If you need to access archived conversations, do so by using the Inbox filter.