Send email notifications of new chat messages to a centralized support email address so that a ticket is automatically created in your support ticketing system and your team is made aware of the message.
We currently do not integrate with support ticketing systems directly. Instead, you can choose to send chat email notifications to a designated email of your choice that will automatically create a ticket within your support system.
Alternatively, you can integrate eWebinar with Slack so your support team can respond directly to chat messages from dedicated Slack channels.
Choosing which email notifications to use
eWebinar gives you two options for email notifications of chat messages, which you will find on the Chat tab in edit mode.
You may get one or both of the following: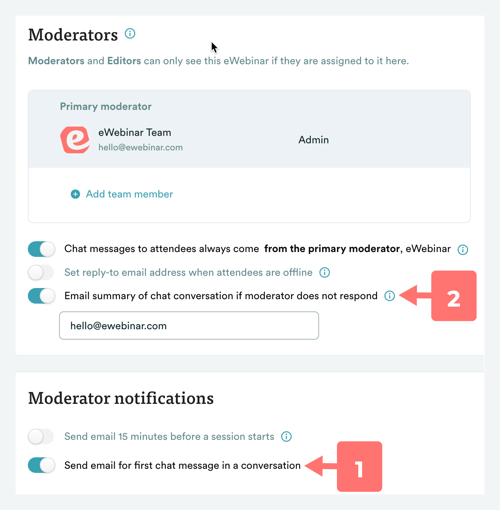 An email notification for the first chat message
Use this option if you want your team to be able to respond to chat messages in real time, when they are available. When they are not available, an autoresponder will let attendees know their message was received and that you will get back to them later. When you do respond, they will get your reply by email.
An email summary of the chat conversation if a moderator does not respond during the session


This is a good option if you do not expect your support team to respond to attendees in real time. If you take this approach, you may want to set attendee expectations properly by mentioning this at the beginning of your video, by saying something like, "We won't be responding to chat messages live, but don't let that stop you from asking us questions. You will definitely hear back from us through email as soon as possible." You may also want to customize your automated welcome message to reflect the same.
Sending email notifications into your ticketing system
Regardless of which email notifications you choose to enable, you may send them into your ticketing system using a centralized support email (support@yourcompany.com) in order to notify your support team.
WARNING: Some support ticketing systems will mark our email notifications as spam because they come from noreply@ewebinar.com, so make sure you whitelist the ewebinar.com domain and/or noreply@ewebinar.com. Otherwise, your team may not receive our email notifications.
For option 2 above, just enter the email where you want to have the notifications sent in the field provided. For option 1, you must do the following setup:
Visit My team from the profile menu and click to create a New team member. In the modal window that opens, upload an avatar (maybe a company logo), assign the role of Moderator, enter the name you would like to appear to attendees in chat (only the First name is shown), enter the email address you have set up for your ticketing system, and then click Send invite. You will then need to go to your support inbox and accept the invitation. Once that is done, you can add this "team member" as a Moderator to any webinar.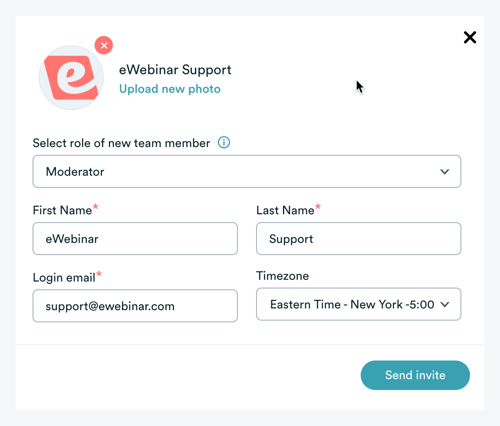 Replying to messages from email notifications
Each email notification that is sent into your ticketing system includes a Reply to Message button that will take your team directly into eWebinar's chat admin to where they can respond. (Your team cannot respond directly to the email notification from your ticketing system.)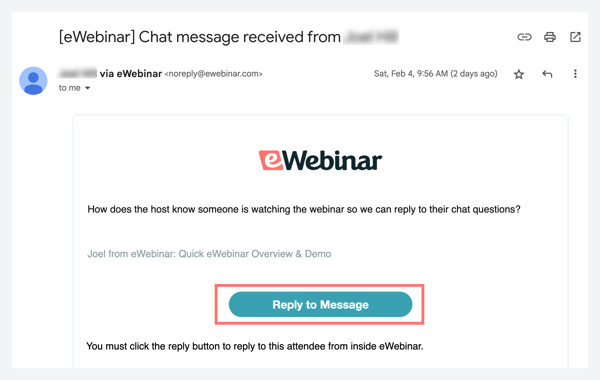 An alternative approach (if you plan to never respond to chat messages in real time) is to disable chat for some or all session types, which may be done from the Chat tab in edit mode. In the example below, chat has been disabled for replays only.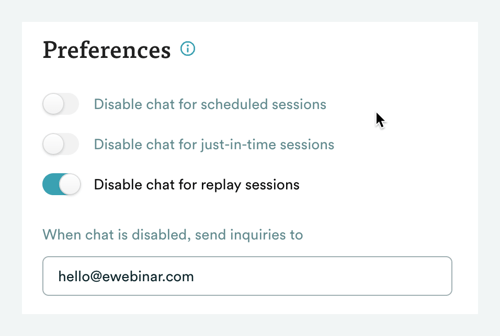 When you disable chat, attendee inquiries are forwarded to a designated email of your choice, in this case, your centralized support email. You may then respond to these emails directly from inside your ticketing system.