Moderators, notifications, welcome messages and autoresponder system
Moderating chat
You can moderate messages from attendees using our chat dashboard which works on both desktop and mobile.
If you add extra moderators, they will be notified when a new message comes in.
Admins and creators will not be notified unless they are also moderators — but they can still answer chats. If they notice unanswered chat messages on the eWebinar homepage, all they have to do is visit the Dashboard to respond.
Moderator email notifications
There are three kinds of email notifications you can send to the moderators of your eWebinar. All of them are automated.
Your message can either go out 15 minutes before a session starts — as long as at least one attendee has registered — or when an attendee sends a chat message. If you choose the second option, your moderators won't be contacted unless someone asks a question — a feature designed to prevent unnecessary interruptions.
You can also choose to send a conversation summary in the case that a question goes unanswered. A summary will be sent to an email of your choice. You may want to send this summary to a support team member. They'll be able to reply directly to the email and respond to the attendee without ever needing to log into eWebinar.
Desktop notifications
If you are someone who doesn't check email often, you can turn on desktop notifications. Just make sure your browser notifications are enabled and that you've approved notifications from ewebinar.com.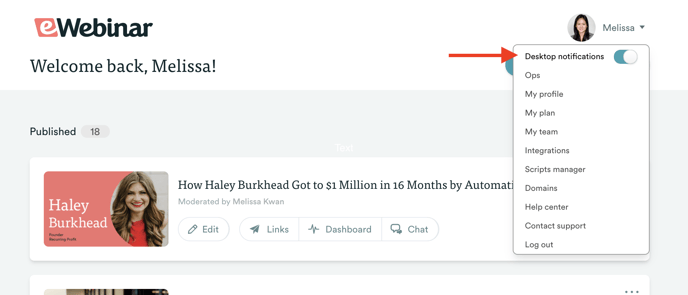 Auto welcome message and autoresponder
You can customize welcome messages for each session type (scheduled, just in time, and replay) that will greet your attendees automatically.
You can also use the autoresponder to automate a message that will be sent to guests if the moderator does not respond to their message within a certain timeframe.
The welcome message will always come from the primary moderator, and the autoresponder will only appear once during a single session.
Smart autoresponder
Our autoresponder system was built to be smart.
This means the autoresponder will not appear for attendee chat messages that typically don't require a response — such as "ok thanks," and "got it."
Our system detects these sorts of messages and disables the autoresponder automatically.