Learn where to find registrant data within eWebinar, how to download it to Excel, and that you can also make it accessible from your CRM of choice.
There are three basic ways to access registrant data captured in eWebinar:
On the Registrants page
The first way you can access data about your registrants is on the Registrants page. To get there, click Registrants on any webinar on the home page.

Once there, you will see a list of all of the registrants for that webinar. Click on any particular one to see their full record of information, including all of their responses to interactions.
By downloading it to Excel
You can also download your registrant data from the Registrants page as a CSV file and open it in Excel. You can decide which registrants to export to Excel by using the filters at the top of the page.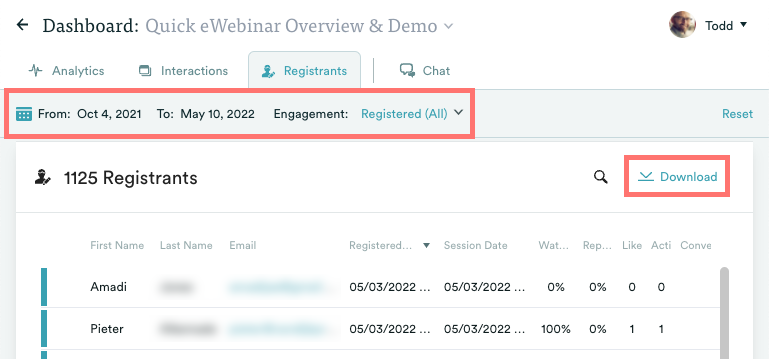 By sending it to your CRM
Though the two methods above are great ways to access registrant data, most eWebinar users want to send the data to their CRM for each Contact or Lead.
For certain integrations, like Hubspot, Salesforce, and Marketo, we automatically create some of the most useful fields for you. But you can always add to the properties eWebinar captures by defining new ones in your interactions and mapping them to fields in your CRM. This process is described in detail in this article.