Track webinar registrants as contacts and know their webinar activity via Timeline events
HubSpot is one of the more powerful end to end Marketing Sales and Support CRM solutions. As the matter of fact, eWebinar shed most of its 3rd party services and now relies almost completely on HubSpot to run its marketing and service efforts. Having all those functions under one roof makes it easy to know exactly how your customers and potential leads interact across your ecosystem of ads, web sites, email, support, and now, eWebinars!
When you add the eWebinar app into HubSpot you will have eWebinar specific fields added to the Contact object. These fields make it easy to create workflows for Contacts based on the last eWebinar they've interacted with. As soon as someone registers for an eWebinar, we create or update the corresponding contact in HubSpot.
Here are the fields created within a new eWebinar property group: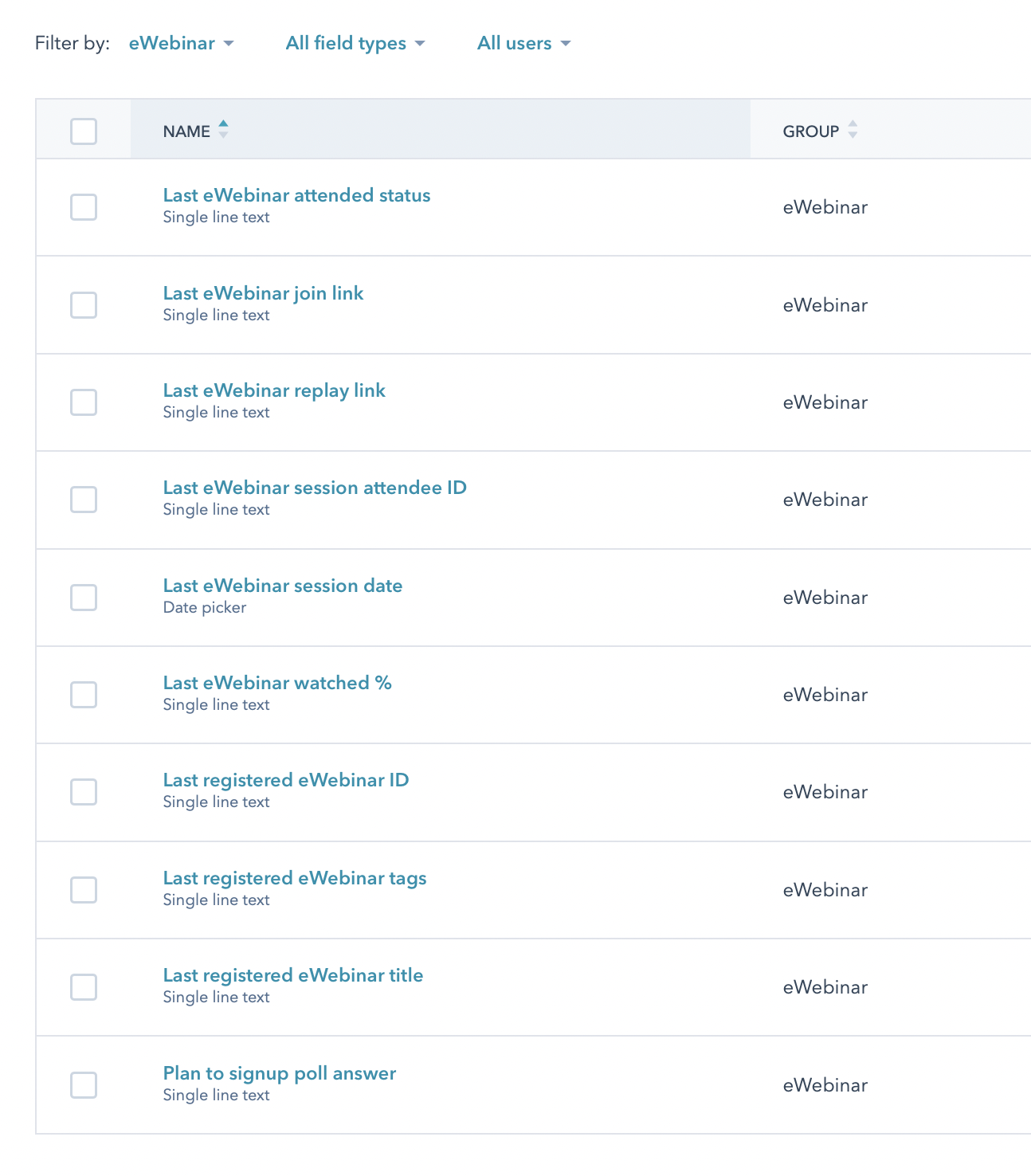 In order to know the detailed interactions your Contacts have had with one or more eWebinars, we also track the activity they have with your webinars as eWebinar Timeline Events within the Contact object. You should make sure when viewing a Contact in Hubspot you go into the Timeline Filters button and enable eWebinar timeline events. You should see events for registration as well as for a webinar being attended or missed. The attended event has all the attendance data for that session by this contact.
To learn why it's a good idea to use eWebinar as either a way to capture new leads or as a way to nurture an existing customer relationship, check out this article or visit eWebinar to understand more about what it is and what it can do for you.
Installation
To set up the HubSpot integration with eWebinar:
Login to eWebinar, signing up first, if necessary
Go to Integrations in the profile menu
Scroll down to Available Integrations and click HubSpot
Click Connect
When prompted, sign in to your HubSpot account
Click Authorize to give eWebinar access to your Contacts object in HubSpot
And that's it. You're all set!
Using Hubspot custom fields
At the bottom of the Integration card you will see a property mapper. If you need to send any other information into your Contact object you can do so by mapping eWebinar properties to Hubspot contact fields. A mapping looks like this: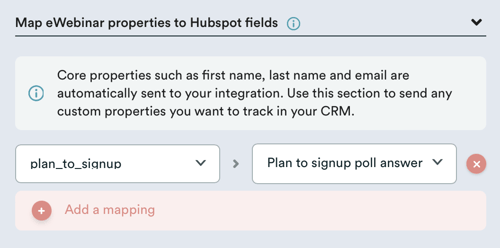 You can also use this to send any custom registration form questions or interaction card results. See this article for more details: How do I capture my attendee's registration form answers or interaction card activity (such as poll answers) in my CRM?
Disconnecting the integration
You have two choices when disconnecting your Hubspot integration with eWebinar. In both cases, start by going to Integrations in the profile menu.
To temporarily disconnect the integration, click the toggle next to Hubspot to change it from Connected to Not connected.




To entirely disconnect the integration, click Hubspot to open the integration in a modal window and then click the delete icon in the top right corner.


Contact support
If you have any trouble connecting or disconnecting your HubSpot and eWebinar accounts, or have questions eWebinar, please contact us at support@ewebinar.com.
To learn more about eWebinar and what it can do for you: