Import recorded meetings into eWebinar from Zoom with a click
Zoom is now the video communication platform of choice. It is an easy, reliable cloud-based platform for video, voice, content sharing, and chat that runs across mobile devices, desktops, telephones, and room systems.
When you integrate eWebinar with Zoom, you can import recorded meetings from Zoom into eWebinar with a couple of clicks and then turn them into interactive, automated webinars in just a few minutes.
To learn why it's a good idea to use eWebinar to repurpose your Zoom videos as automated webinars, check out this article. Or visit eWebinar to understand more about what it is and what it can do for you.
Installation
To set up the Zoom integration with eWebinar:
Login to eWebinar, signing up first, if necessary
Go to Integrations in the profile menu
Scroll down to Available Integrations and click Zoom
Click Connect
When prompted, sign in to your Zoom account
Click Authorize to give eWebinar access to your recorded meetings in Zoom
And that's it. You're all set!
Usage
Every eWebinar is built around a pre-recorded presentation — a video. When you create a new eWebinar, you are able to add your video by uploading a file or pasting in a link.
Once you've connected your Zoom and eWebinar accounts, you will see another option: to import a video from Zoom.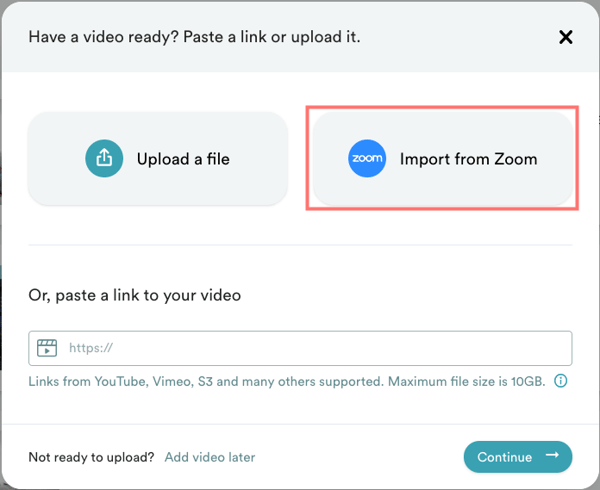 To import a cloud recording from Zoom:
Click Import from Zoom. When you do, you will see listed all of the cloud recordings in your Zoom account.
Select one and click Continue. (Note: Zoom will only surface recordings that are less than a month old.)
Your recording will be imported to eWebinar automatically so you may create an eWebinar from it!
Uninstallation
Uninstalling eWebinar from your Zoom account is simple.
Login to Zoom
Go to the Solutions menu and click Marketplace
Click Manage
Then click Installed Apps
Click Uninstall next to eWebinar
Choose the reason you wish to uninstall the app and click Uninstall again
Contact Support
If you have any trouble connecting or disconnecting your Zoom and eWebinar accounts, or have questions eWebinar, please contact us at support@ewebinar.com.
To learn more about eWebinar and what it can do for you: