Use eWebinar to bring your launch on Product Hunt to life
Product Hunt surfaces the best new products, every day. It's a place for product-loving enthusiasts to share and geek out about the latest mobile apps, websites, hardware projects, and tech creations.
eWebinar integrates with Product Hunt, so product makers looking to launch their products on Product Hunt can use eWebinar to market and support their launches.
Integration highlights
Product Hunt interaction card: Use this special interaction card to direct attendees to your launch post on Product Hunt so they can support your launch!
Product Hunt maker template: Use this template, created by #1 Product Hunter, Chris Messina, to bring your Product Hunt launch to life with eWebinar.
Product Hunt widget: You can install an eWebinar countdown widget on your website to drive attendees to the next webinar about your Product Hunt launch.
Scroll down to learn more about each of these items.
Setting up the integration
To set up the integration between Product Hunt and eWebinar:
Go to the Integrations page in eWebinar, which can be found in the profile menu, and click the Product Hunt integration.
Sign in with your Product Hunt credentials, and you're ready to go!
Adding the Product Hunt interaction card
While you are in the process of creating the eWebinar you plan to use to promote your Product Hunt launch, if you go to the Interactions tab, you'll see the Product Hunt post card in the list of interactions to choose from.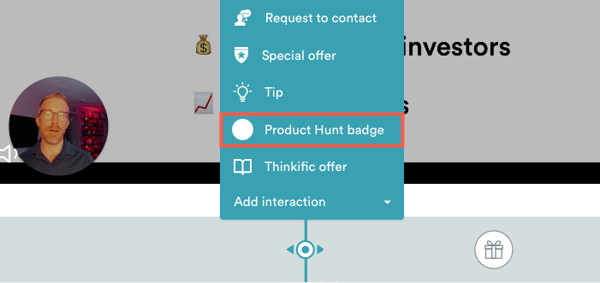 TIP: If you use the Product Hunt maker template to create your eWebinar, the Product Hunt interaction card will have been added for you already. All you have to do is link it to your Product Hunt launch post!
Add the Product Hunt interaction card at the moment during your eWebinar when you would like direct people to your Product Hunt launch post.
Enter the link to your post or the slug found at the end of your post's URL into the field provided.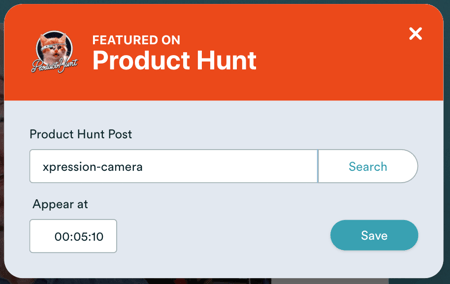 Click Search and the name, description and link associated with your post will populate automatically.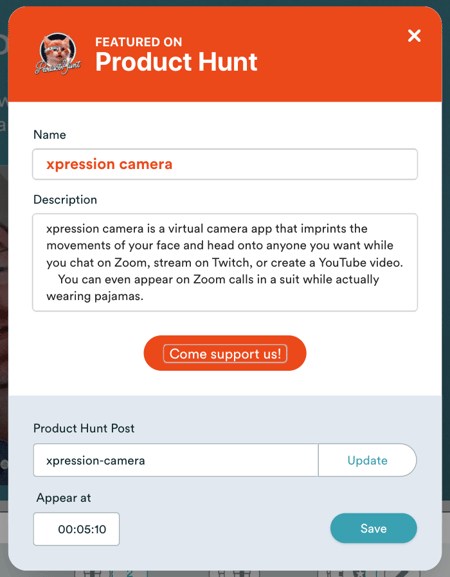 Make any small edits you would like to make and click Save.
Using the Product Hunt maker template
When you go to create your eWebinar, choose the Product Hunt maker template.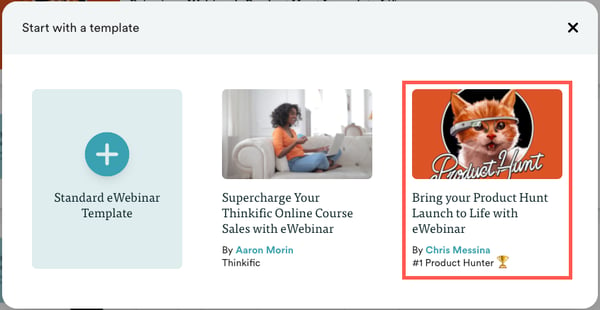 From there, you can:
Set a recurring Schedule that works for you
Customize the content of your eWebinar as needed, including its Notifications, Interactions, and Registration pages
Watch the short video on the Interactions tab of Chris Messina explaining best practices to follow when creating the video to go along with it
Once your video is ready, upload it on the Interactions tab, Publish your eWebinar, and start promoting your launch!
Installing the Product Hunt widget
Edit the eWebinar you would like to add the widget for, go to the Registration tab, and click Widget code.
Configure the widget, making sure to select Product Hunt Pop-up as its Type, copy the code, and paste it into the footer of your website.

When you're done, you will see the eWebinar widget has now appeared on your site.