Explains your scheduling options, including 'just in time' and 'watch replay'
One of the most amazing features of an eWebinar is that you can set it on a recurring schedule and make it available as often as you like, for as long as you like, on any day, at any time, and in any timezone. Time is not a limiting factor.
When setting your schedule, you can, of course, choose the days of the week and times you want your eWebinar to be available, but did you know you had a number of other powerful scheduling options?
Local timezone of the attendee
You can set sessions to appear in the local timezone of attendees regardless of where they are in the world.
​


​For example, if you choose this option and schedule a session at 10am, the registrant will see 10am in the registration form whether they are in New York City or Singapore.
Watch replay option
Found on the Session options tab, the Watch replay option allows people to register to see a "replay" of your eWebinar instead of for a regularly scheduled session, giving them a way to watch your eWebinar on demand.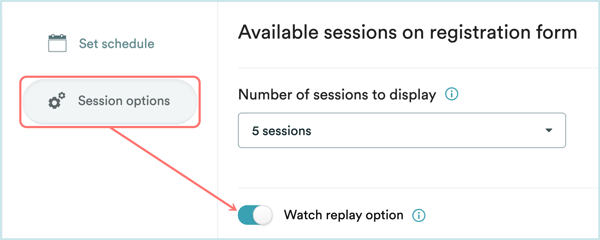 Unlike regular sessions, replays don't include a private welcome message or have Waiting and Exit Rooms, including any Interactions that might be in them.
Just in time option
When the Just in time option is turned on, the start time of the next available session in your registration form will be based on whatever option you select under New Session relative to the time a person lands on your registration page.
​


​For example, if you select 'Every 15 minutes' and someone visits your registration page at 12:07pm, the first option in the list of available sessions for that person to choose from will begin at 12:15pm. That way, if a registrant wants to dive right in, they can find themselves in a session within a few short minutes.
Hours of operation
If the Just in time option is enabled, you can also set your Hours of operation, which will prevent sessions from showing up in the registration form that fall outside of those hours.

​For example, if you set your Hours of operation from 9am to 5pm on weekdays, someone visiting your registration page at 6pm on a Friday will see the next available session at 9am the following Monday.
​
In the end, no matter when, how, or how often you decide to make your eWebinars available, there is never a shortage of options at your fingertips to choose from.