Why we're here
"Automated webinar" solutions are out there. Sadly, they're little more than videos playing alongside some fake attendees. They achieve their basic purpose and provide information, but let's face it... they're one-sided and boring.
We've made them fun and engaging.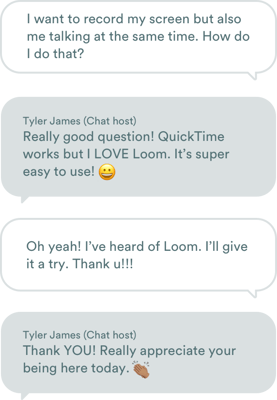 What we do
eWebinar automates the mind-numbing task of giving the same presentation over and over by cleverly combining pre-recorded video with real- time interactions and live chat. Your customers will be delighted by the experience, and you'll get your time back.
It's more than a win-win. It's a win-WOW!
What you can do with an eWebinar
Do you give the same presentation over and over? Let us do it for you.
Sell 24/7
Educate consumers

Demo your product

Qualify leads
Recruit
Promote your brand

Attract recruits

Nurture prospects
What to expect from us
Simple to use
Do what you need to get done in just a few steps. Customize as much or as little as you want. We anticipate your needs, so you can get in and get out.
Beautiful to look at
We may be a person's first -- or last -- impression of your company. Elegant design and thoughtful templates will make your brand shine.
Irresistibly engaging
Attendees can reach out to you with questions through live chat, while the interactions you've pre-set keep them engaged until the very end.
Full of insights
We provide all the data and reporting you need to create better presentations, drive engagement and convert leads to customers.